Winter Rae Takes Your Dick In Her Pretty Mouth
Winter Rae Takes Your Dick In Her Pretty Mouth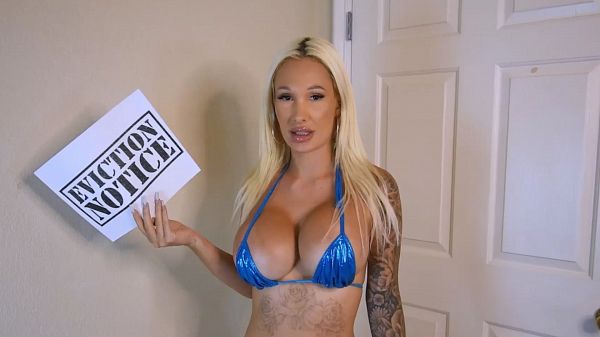 What happened to Winter Rae is a crime. This greedy landlord (that's you) has given her an eviction notice. Only a heartless, money-hungry swine would do this to a sweet, innocent girl, and that's beyond forgiveness. There ought to be a law protecting big-boobed girls with crazy-hot bodies from brutes like you.
And to think that Winter gladly paraded around the apartment complex every day in her tiny bikinis for your (and your neighbors') viewing and jacking pleasure. It's well-known that you even recorded her at the pool oiling up. Determined to resolve this injustice, Winter comes to your apartment and rips up your crummy notice. It's time for her to take matters into her own sweet hands.
Winter Rae gets topless then turns her back on you to swivel her hips and stick her bubble butt in your face. She kneels while you sit there with your camera, takes your dick in her pretty mouth and sucks it hard, making lip-smacking blow job sounds. She really loves the taste of cock-meat and bloated balls. When you're about to explode and load her pretty mouth, Winter jerks you off fast until you splash her big tits with sticky nut-juice.
"Can I have my keys back?" Winter asks. Do as she asks. You don't want this babe moving out!