A Hot Day With Sofia Damon, Naty & Kim Velez
A Hot Day With Sofia Damon, Naty & Kim Velez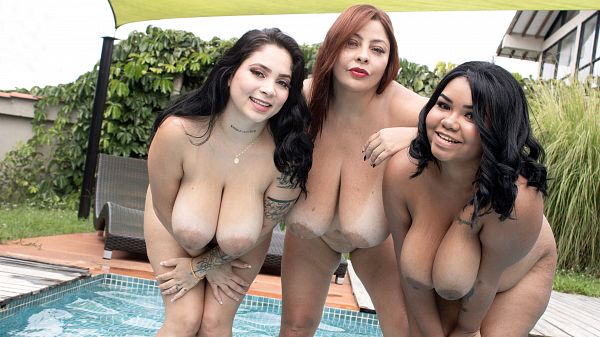 Outdoors on a warm, sunny day, curvalicious and boobalicious Kim Velez greets us, letting us know what she has planned. "Today I'm going to have a delicious time with two friends," Kim says in Spanish, which we've captioned for the Spanish-impaired. "But first, I want to show you my beautiful swimsuit that I bought for you. What do you think?"
Think? That's a little difficult when Kim is standing there, no matter what she's decorating her corpus-delicious with.
Her friends? None other than Sofia Damon and Naty. With eager, bouncy girls like Kim, Sofia and Naty, is it any wonder Colombia's been on our radar for several years?
They take off their bikini tops to compare breasts, admire each other's bodies and play water-filled balloon games. Getting under the outside shower, our sexy muchachas bounce and shake their tits and twerk their asses. Their bodies are soaked, their tits and booties dripping with water in tack-sharp slow motion.
The girls pick up their wine and their rubber dicks and get into the pool. "Let's toast because today is a great day," Naty says. It's a good time to test the physics of natural breast flotation. Exiting the pool to sit side-by-side on the edge, they bounce their tits in unison in slow motion, their dildos inserted deep inside their pussies.
"I love you girls and I love this afternoon," Sofia says. "Let's have some delicious drinks" Waving and blowing kisses, the girls say goodbye. "Guys, we love you!"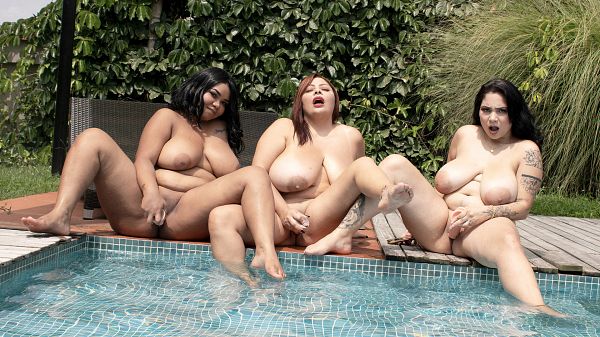 See More of Kim Velez at PORNMEGALOAD.COM!