Sexercising With Busty Emma Shay
Sexercising With Busty Emma Shay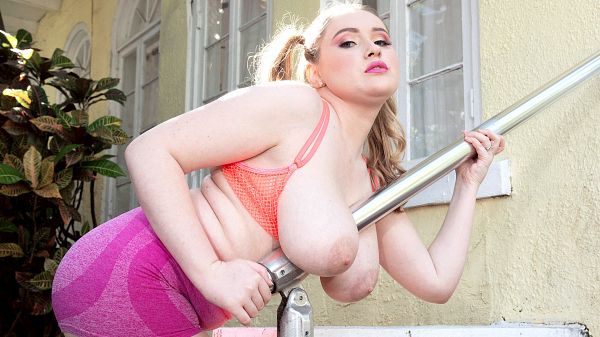 It's exercise time for young, pretty and cute Emma Shay. You're welcome to watch while she does her tit-fit program. Emma's 5′ with 34DDD-boobs, tiny and stacked with voluptuous curves. Her pigtails fly as Emma jogs and bounces into view. Wearing a mesh sports bra only suitable for private viewing, and stretchy, tight shorts, Emma does jumping jacks. Her big natural breasts bounce and jiggle. This shifts into slo-mo… er…strictly for research purposes, of course.
Emma vigorously takes the steps several times and pours a bottle of water on her heated body to cool off. She invites us into the house and takes us into the bedroom so she can do some topless exercises away from curious eyes.
Continuing with her breast workout by the bed, Emma does some more stretching and bending. She tugs and licks her nipples and fondles her tits and gives herself a pussy-wedgie with her panties before stripping off and getting into bed to finger-fuck her peach of a pussy with two, then three fingers. Emma is great at sex talk and you can hear the squish-squish of her wet cunny as she spanks it fast.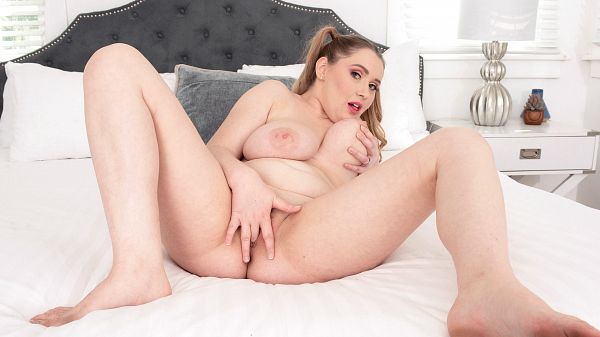 See More of Emma Shay at PORNMEGALOAD.COM!