Lusty, Busty, Horny Gia Costello & The Peeper
Lusty, Busty, Horny Gia Costello & The Peeper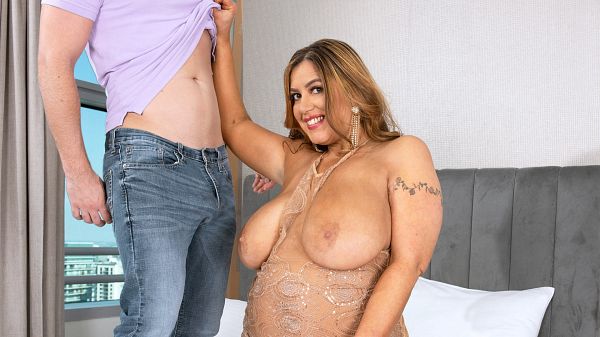 Gia "ChickSicilian" Costello is spending some of her afternoon in bed playing with her lush, plush MILF body. She's dressed for sex in lingerie and FM heels. Her fingers tickle her fancy but she fantasies about a hard cock-man fucking her.
Meanwhile, hiding behind a chair is Nicky Rebel, who's watching this lusty lady do herself. He lives next door, heard female moaning, discovered her door was unlocked and just walked right in, sneaking into her bedroom to peep. Of course, Gia spots him. His heavy breathing gives him away. Instead of chasing him out, Gia invites him to come to her bed and show her what he can do for her.
Watch Gia deep-throat this dude. Tremendous! She sucks it down to the balls and sucks them too. Nicky fucks Gia's offered tits and then has her climb on top to ride him the cowgirl way for starters. The dick goes in deep and Gia loves every inch. When he pops on her big tits, Gia licks the cum off them.
"I'm an old-fashioned girl," Gia said. "I like romance! I like flowers, to be wined and dined at a nice restaurant. Maybe find a quiet spot afterwards to chat."
And maybe a quiet spot to get fucked. No romance or flowers today for Gia but she does get a happy ending.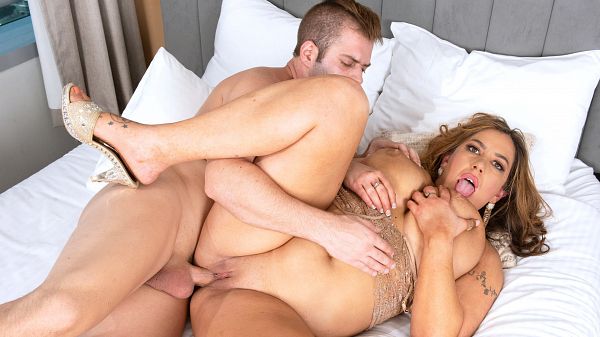 See More of Gia Costello at PORNMEGALOAD.COM!