Natasha Sweet & The Door-to-Door Bra Salesman
Natasha Sweet & The Door-to-Door Bra Salesman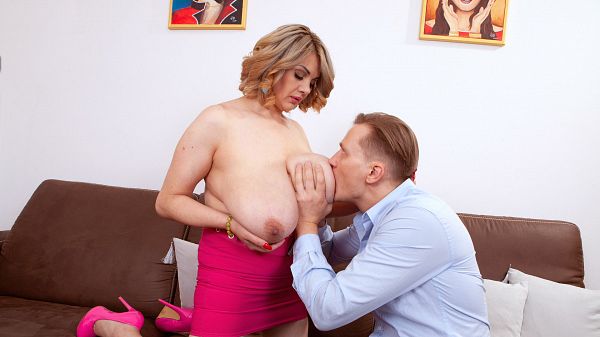 Once upon a time, dedicated men and women, suitcase in hand, travelled the globe to sell bras door-to-door. Their business slogan: "It's what's upfront that counts." They offered the finest selections of quality bras as well as intimate lingerie directly to their customers.
Back then, when a topheavy housewife or a DD-cup divorcee relaxing at home collecting alimony saw one of these sales reps walking to her house, she rolled out the welcome mat, eager to try on the latest bras in the comfort and privacy of her living room. Internet sales eroded this once noble profession and the pandemic was a final crushing blow to the door-to-door bra sales industry. This video is dedicated to a group of hardworking professionals who do everything they can to keep busty women abreast of the latest styles in brassieres.
Today, Stanley Johnson is one of the few remaining door-to-door bra salesmen who still practice this profession. He has his hands full–very full–with his customer Natasha Sweet. He very neatly lays out his selection on Natasha's coffee table, confident that she'll find one or more to her liking and comfort.
Lovely and sexy Natasha greets Stanley wearing a top that reveals just how big and heavy her tits are. He overlays a few bras on Natasha's upper-deck but they don't please her. Finally, she sees one she likes. Natasha lowers her top and takes off her own bra so she can try it on for size. It's too small so it goes back on the pile.
Stanley finds another bra and this one fits perfectly. It looks like he's going to make a sale. Natasha is so pleased and overcome with customer satisfaction that she pulls Stanley's face into her deep cleavage. While Natasha is giddy experiencing the joys of at-home bra shopping, Stanley comes up for air and removes his face from Miss Sweet's sweet, soft breast flesh so he can suck on her tasty nipples. Feeling he deserves the ultimate sales commission, Natasha throats his cock and then buries the bloated boner between her bodacious breasts. She gets on her hands and knees so he can shoehorn his dick into her tight pussy from behind. His technique is so pleasurable, she wants to get fucked in other positions. Another satisfied customer! Cha-ching!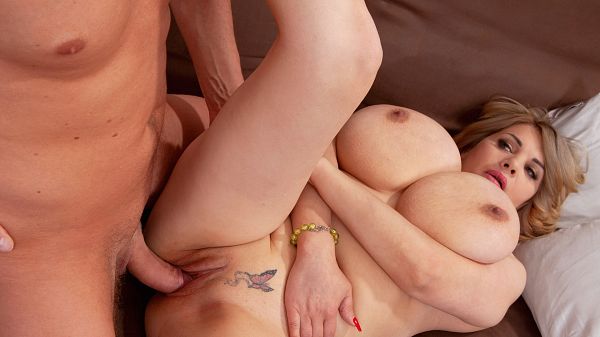 See More of Natasha Sweet at PORNMEGALOAD.COM!