Laura Tithapia: Early Morning Boning
Laura Tithapia: Early Morning Boning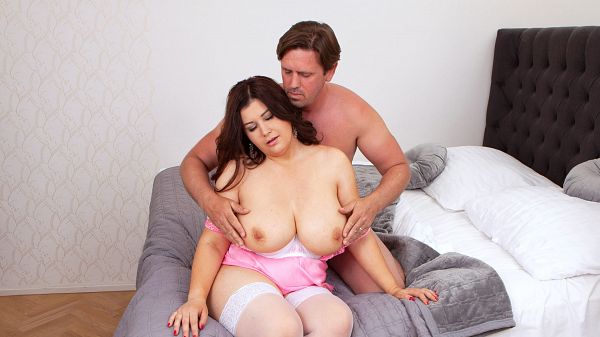 Laura Tithapia has a busy morning planned for Tom Holland. He's still sleeping when Laura walks into the bedroom carrying a breakfast tray. She wants to energize her squeeze before their day begins. Laura is a very sexy sight for a man to see when he wakes up.
Tom takes a bite of the prepared breakfast, gives Laura a taste, and then puts the tray away to lock lips with her. He wants her big tits for breastfast, not food. While he rubs and sucks her nipples, Laura pulls his cock, feeling it harden in her soft hands.
Tom straddles Laura and fucks her heavy boobs for the first time. She sucks on the tip of his sausage when it travels through her titty-tunnel and reaches her mouth. Then she gets on top of Tom to throat him and rub his dick on her soft breasts.
Laura surrenders her panties and gets on her knees and hands ready to get fucked from behind and have her video virginity taken. Tom fills her pussy with his hard meat, busting her on-camera cherry. He lifts her leg up so he can pound her sideways and then places her on her back for more. Laura cums while riding his cock.
See More of Laura Tithapia at PORNMEGALOAD.COM!