Gia Costello's Big Bra Reveal
XLGirls: Gia, you live in New Orleans. Do you flash your boobs for beads during Mardi Gras?
Gia Costello: I have flashed before, yes. Mainly on Bourbon Street. It's like a sea of naked body parts and alcohol! Bigger beads for bigger boobs!
XLGirls: What kind of things have men done to try to impress you?
Gia Costello: Mainly throw money around. I have been offered some ridiculous sums to do meet ups, so much that you know they can't be serious! Some guys just pretend to have lots of money because they think it will get my attention! I had one guy literally pretend to be a doctor!
XLGirls: That's crazy. Do you like looking in a mirror during sex?
Gia Costello: No, I'd probably get self-conscious. But I do like to watch myself on film afterwards!
XLGirls: Have you shown your photos and videos to any male friends? If yes, what reaction did you get?
Gia Costello: I've shown a few to two male friends. They both couldn't believe it, like "Wow, who knew you were a sex goddess!" They were a little shocked to see me in porn star mode!
XLGirls: How different are regular guys at sex compared to the porn pros?
Gia Costello: Hmm…. Well, I think all the porn pros I've been with thus far are exactly that, pros! They all know what they're doing and do it well! Regular guys can be good too, but they're either overconfident (like "Yeah, she loves this!"), or underconfident and afraid to branch out and try new things! Sometimes, not always.
XLGirls: What do you like to do most on a free night?
Gia Costello: I either go out for dinner and drinks with friends, or sometimes I like being alone and just relax, pamper myself, watch Netflix and drink wine!
XLGirls: Do you have any girlfriends with a body like yours?
Gia Costello: Not quite. I've always heard them sigh and ask if I can donate some spare boobs to their poor B- or C-cups! But they all have their own good qualities! One has a killer ass, one has long legs, etc. If you put us all together you'd have the perfect woman!
XLGirls: What makes you laugh?
Gia Costello: I love to laugh! I joke around a lot. One of my favorite tricks is to say something ridiculous with a totally straight face and then watch another person's reaction! I usually can't keep a straight face long!
XLGirls: How important is cock size to you? What cock size do you like?
Gia Costello: I will admit, I think it's relatively important! I would call myself spoiled as far as that goes. In real life I've had boyfriends that were pretty well-endowed. And my experiences filming with SCORE now! Perfect is a nice eight inches or nine inches with some thickness. But it's not a deal breaker if he's not that big, he just has to show me he can use it well!
XLGirls: What's your favorite position for tit-fucking?
Gia Costello: Probably on my back, with my head hanging off the bed so they're extra bouncy!
XLGirls: Thank you, Gia Costello.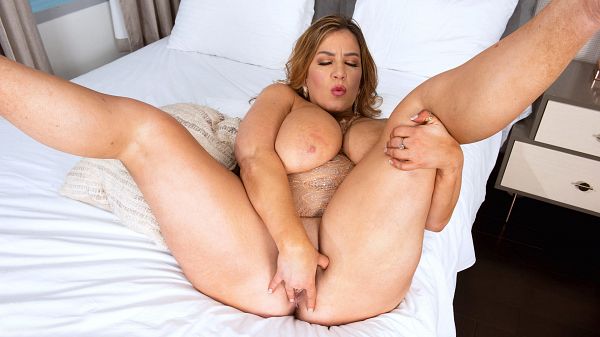 See More of Gia Costello at PORNMEGALOAD.COM!