Isa Gomez & Angie Bravo: Breast Friends
Isa Gomez & Angie Bravo: Breast Friends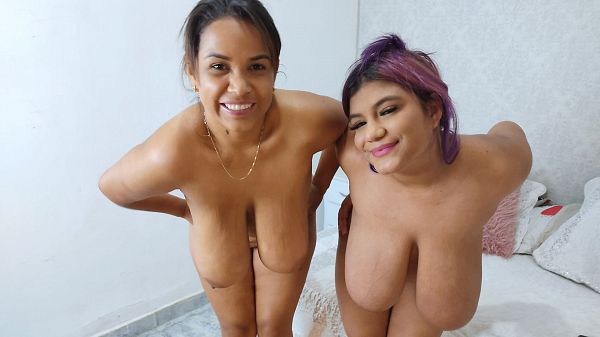 We all know and love young and juicy Isa Gomez. Now her friend Angie "HugeTitsAngie" Bravo joins XLGirls to double the pleasure. The Colombian Cleavage Crusade is in full swing with a major XLGirls take-over.
If Angie's purple hair doesn't attract the attention of the locals in her neighborhood, her huge breasts always do. When Isa joins Angie in the bedroom and their huge tits swing and jiggle, it's a tit-man's paradise.
Both girls can't keep their hands, lips and tongues off each other's boobs. They make-out, kiss and suck their nipples, boob-drunk on the sweet taste and scent of their fleshy, soft skin.
Angie lies on top of Isa and rubs Isa's heavy knockers. She leans forward so Isa can suck on her nipples. They mash their boobs in this position. Isa leaves the bedroom, and while Angie waits for her amiga to return, she rubs her pussy in anticipation.
Isa returns wearing a big, black strap-on. She wants to fuck nineteen-year-old Angie, and Angie is eager for that to happen. Angie gets on her hands and knees and Isa penetrates her from behind. The girls' tits swing like bell clappers. Angie cums hard and wants more. Isa gets on her back and Angie gets on top of her, sticking the cock up her pussy. Angie grinds and swings her tits and looks at Isa. Both hot babes are lovin' every second.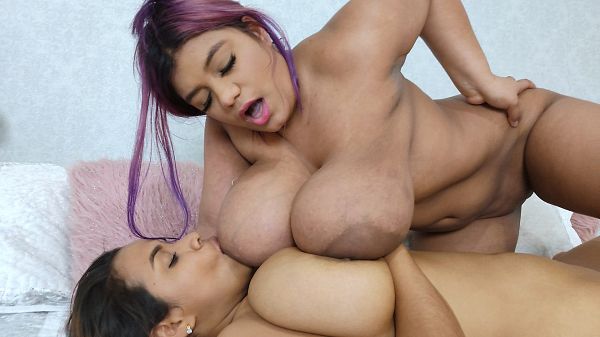 See More of Isa Gomez at PORNMEGALOAD.COM!