World Cups Winner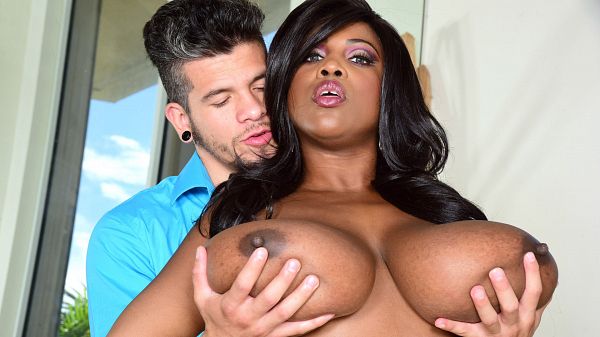 Maserati doesn't have the easiest time finding bras that fit her. Every time she visits TSG, it looks like her already huge tits have gained more boobage. The progression is amazing when one compares her photo shoots from the beginning.
There's a selection of bras on the couch for Maserati to try on. Each one looks as big as the nose cone of a nuclear missile. Bam courteously helps Maserati try them on. Every girl needs a hook-up man when it comes to bras even if she prefers front-loaders.
At first, the red bra Maserati tries on looks like it's going to be way too large. Our mistake! She fills it very well and tests it out. It's a winner. There's a little bit of room which is a good thing as far as Maserati is concerned.
Next up is a blue number. Maserati likes this one a lot too. While Bam is putting it on her, he can't resist feeling these marvels of nature. No man could fight this urge. A traditional white bra is next. Maserati puts it on in the single girl way, by hooking it from the front and spinning it around her titillating torso. This one is small yet it's a tent for an average woman. Maserati is a superwoman. Last but not least is a tight pink and white bra that gives her tremendous, pushed-up mounds.
Bra try-outs over, Bam and Maserati get on the couch to get better acquainted and share some big-boobed fucking. It's tiring being her bra boy. When Bambino fucks Maserati's tits, his cock completely disappears. This is called the "Maserati Effect." Bra off, Maserati bounces, her tight pussy gripping his cock as he plunges in and out. They try each other out in a mix of different positions until she takes a geyser of cum in her sweet mouth. This has been a very successful experiment in hooter holstering.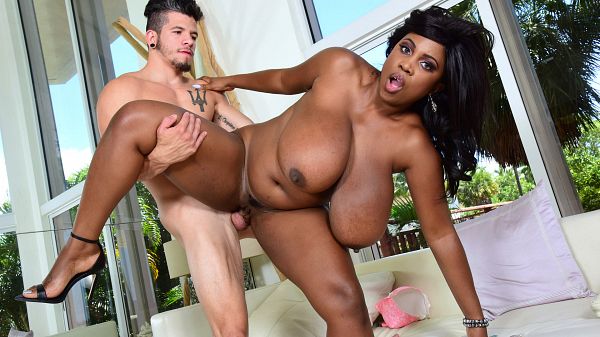 See More of Maserati at PORNMEGALOAD.COM!