Ricki Raxxx: The Hot Floor Show
Ricki Raxxx: The Hot Floor Show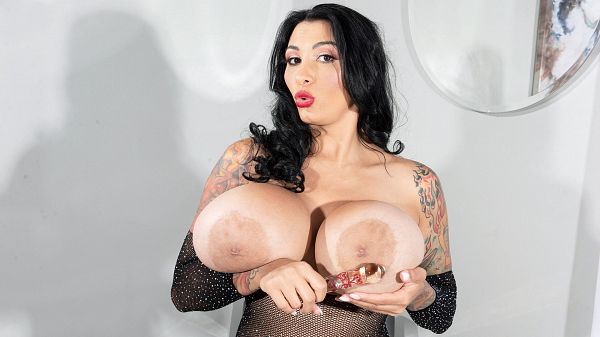 "I want them bigger and bigger," Ricki Raxx seductively says in a voice full of longing as she caresses her massive breasts. Her desire for even bigger tits is intense. Wearing a black, netted body suit designed to bare her pussy and ass, Ricki jiggles and gently squeezes her twin peaks, eye-banging the camera, owning it, hypnotizing it.
Ricki shows off her sensational exotic dancer skills with a display of the kind of flexible, steamy, sexy floor work she's well-known for at the clubs she strips in back home.
Ricki spreads her limber, shapely legs wide revealing her full muff and sticks them in the air. She turns to show her beautifully shaped ass, toned and tight from dancing and fitness training. Very few girls these days do this kind of horny, strip club floor show on-camera, especially super-stacked girls with huge boobs. Ricki takes her clear toy, sits in a chair, spreads her legs wide again and fucks her pussy, her free hand rubbing her clit.
SCORELAND member Seth wrote about Ricki, "She is total Richter hot Amazon seductress. And she fully knows how to throw down and mesmerizingly own the viewer, and she captivates."
See More of Ricki Raxxx at PORNMEGALOAD.COM!