Hittin' The Mega-Boobed Office Hottie
Hittin' The Mega-Boobed Office Hottie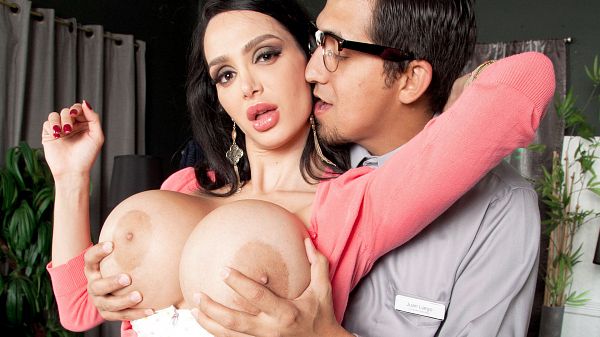 If you're not a geek in an IT department, you could fast-forward right away to the cock-sucking, but why not enjoy Amy's tight cardigan show which opens this video? She's an Otis Sweat painting made flesh.
Seeing Amy Anderssen jerk a hard cock until it explodes cum into her mouth, which then drips on her huge hooters, is one of the highlights of "Hittin' The Mega-Boobed Office Hottie."
But let's backtrack. A computer nerd has been asked by Amy to fix her computer at work. This is a great fantasy for any guy who ever worked in the IT department and dreamed of banging a co-worker with big tits. Actually, big is not the word for Amy Anderssen's rack. Giant, fucking knockers is more appropriate.
SCORE veterans may remember Amy when she first appeared in April 2007 SCORE magazine. She did not look like she does now. Back then she was Jayna James. She was a blonde Canadian from Ontario with a hot body and big, but smaller, boobs.
"I was totally different," Amy recalled. "I had way smaller breasts. I think then I was around 900ccs. I was totally blonde. I used to wear blue contacts. I used to always use spray tans. That was basically what was happening seven years ago. I was playing that part seven years ago, and now I'm going with my natural hair color, my natural eye color and I do less tanning."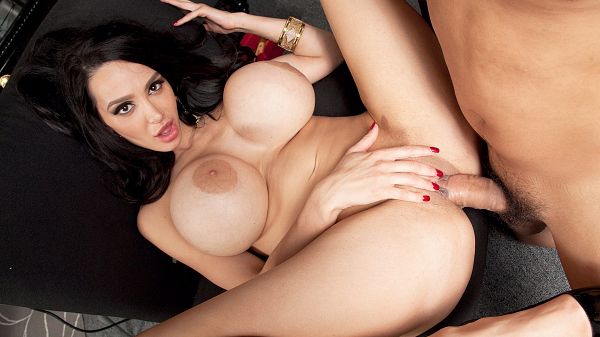 See More of Amy Anderssen at PORNMEGALOAD.COM!