Jessica Bunnington: Poolside Play Bunny
Jessica Bunnington: Poolside Play Bunny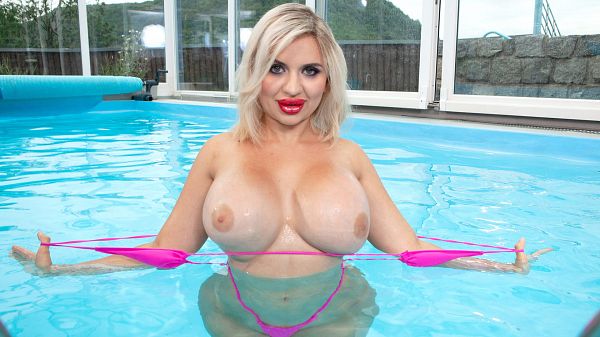 Jessica "Jessy Bunny" Bunnington scores big again at SCORELAND, this time wearing a pink string monokini under a tight, short gold dress at poolside. That water heated up several degrees when constantly horny Jessica climbed down the ladder and immersed her beautiful body.
After she exits the pool, she oils down, giving special attention to her big tits, and pleasures her wet bunny-hole with a ribbed pink vibrator that tickles her thick pussy lips. She doesn't wear her nipple barbells in this scene.
A girl on a breast quest for bigger and bigger boobs, she loves to wrap her dick-sucking lips around cocks, bananas or toys. "I get very horny thinking about my big lips playing with a big dick and wrapping around a big, hard cock and sucking it," said the young German hottie with a yen for bimbofication.
It's been close to a year since Jessy debuted at SCORELAND. "For as long as she can remember, Jessy has admired girls with big tits," SCORE magazine editor Dave wrote. "Her problem was, she wasn't busty herself. In fact, she was a natural A-cup. She never wore a bra because she didn't need one. And all the praying in the world wasn't going to make her busty. So she did what so many other girls have done."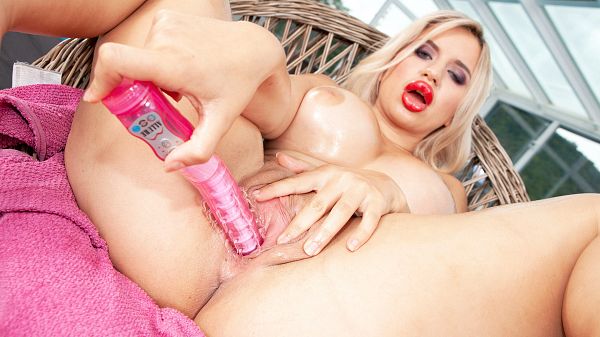 See More of Jessica Bunnington at PORNMEGALOAD.COM!