Natasha Sweet: Big Juicy Breasts After Breakfast
Natasha Sweet: Big Juicy Breasts After Breakfast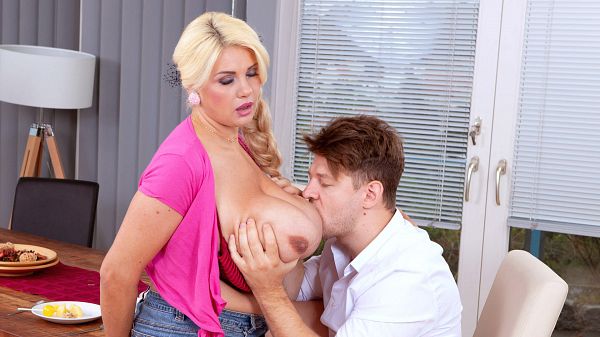 Natasha Sweet and Michael Fly have finished their breakfast and coffee. Now they sit at the table in no rush to get up. They look at each other and silently contemplate what to have for dessert. Natasha's great, big breasts are close to spilling out of her halter top and bra. She sits close to Michael and sensuously licks a lollypop, teasing him with her lips and tongue.
Michael takes the lollypop from Natasha and brings it to her mouth. She licks it erotically like it's his dick. This sexy game gives them pleasure. He rubs the sticky lolly over her nipple and lifts it up for Natasha to taste. Natasha opens her top so her boobs can dangle. She wants her nipples sucked and licked.
Natasha opens Michael's fly and takes his cock out for her to suck on and wedge between her enormous tits while he stands near the table. He feeds Miss Sweet his rock-hard dick and fucks her soft boobs. She holds her tits tightly together as he pumps her cleavage, her fingers sinking into her breast-flesh.
He turns Natasha around to face the table so he can take off her denim skirt and move her pink thong panties aside. She moves the dishes and cups to make room. This is where they're going to fuck. Natasha leans over the table as Michael fucks her from behind with deep thrusts, hips grinding.
Next, Natasha lies back, her head over the edge of the table while Michael puts his balls in her mouth and fucks her tits in a reverse of the usual tit-fucking position. She licks and sucks his balls while she squeezes her fleshy boobs together to trap his dick. Michael helps his sexy partner get up and spin around so she can get on her back. Now she can face him and her pussy can be near the edge of the table. He can gaze at her beautiful face as they fuck. They want to continue their after-breakfast sex, this time with Natasha's panties pulled off. Her massive breasts shake and jiggle as he plunges into her pussy and the room fills with her horny moaning.
Natasha Sweet is as sweet as they cum.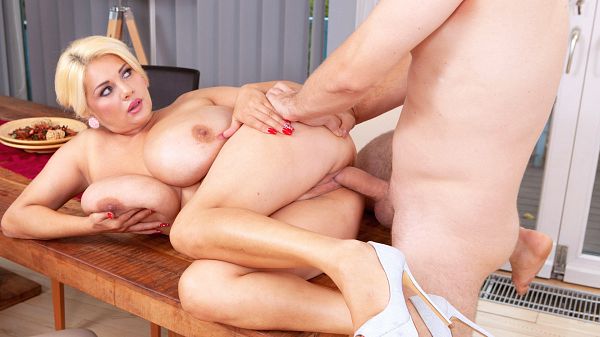 See More of Natasha Sweet at PORNMEGALOAD.COM!