Natasha Sweet: The Sweet Ride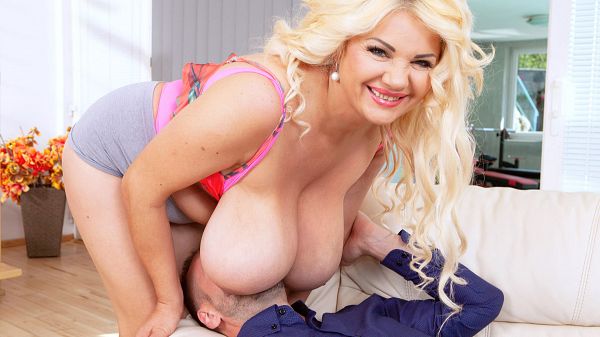 While Perry is impersonating a couch potato, blonde bombshell Natasha Sweet is lifting iron and doing her best to keep in awesome shape. Natasha is another hottie who's been exhausting us since she started taking out her incredible breasts for our cameras. Because of Natasha, some of us have that one, overdeveloped "Popeye" arm.
Natasha is dressed for a workout, just the way we wanted. She's wearing a pink fitness one-piece, a halter-top over that, tight, cameltoe shorts and very high heels. Does this goddess know how to dress for the gym? You betcha.
Perry should be spotting Natasha and helping her out, or at least watching her do her chest exercises but he remains planted on the couch in another room. Natasha walks into the living room, not tired at all and ready to go. She sees Perry as another tool to work out with, starting with cock-pulling, an exercise that helps develop a girl's wrists.
Natasha drops her bare breasts on Perry's face to jump-start him. Her fleshy orbs feel warm and smooth, just right for Natasha's next exercise. Mashing his boner between her tremendous ta-tas, Natasha treats Perry to the tit-fuck of his dreams, then she places a lip-lock on his cock, which is still squished between her bazooms.
Boob-drunk because of this beauty's tender, loving care, Perry can't wait to get started on Natasha's circuit training routine and begins pumping her pussy with deep thrusts. As they fuck, Natasha licks and squeezes her boobs, hardening her nipples. Next up on the training schedule is a deep-down doggy that makes Natasha moan and cry out with pleasure.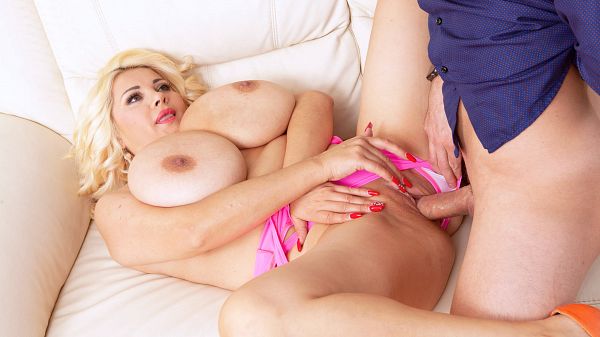 See More of Natasha Sweet at PORNMEGALOAD.COM!