Four fingers for the new MILF's pussy
Four fingers for the new MILF's pussy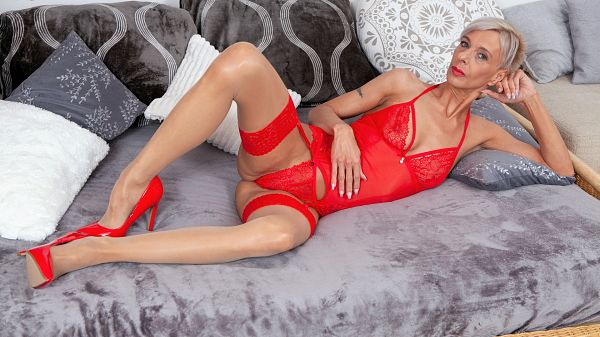 When we asked Belinda Bee, a 47-year-old, tight-bodied, silver-haired cougar from the Czech Republic, if she likes to masturbate, she said, "Yes. I use my hands."
Does she ever! In this scene, her first at 40SomethingMag.com, Belinda spreads her long legs so you can get a closeup view of her shaved, pink snatch. She dips a few fingers inside and spreads her pussy wide, then she shoves four fingers deep inside, first with one hand then with the other, alternating back and forth. Her pussy grips her fingers, and it's very wet. You can hear it. Meanwhile, you're also getting nice views of Belinda's tight asshole. This is very hot stuff from a woman who loves showing off for the camera. Later this week, Belinda is going to fuck for your viewing pleasure.
40Something: What are your hobbies?
Belinda: Music. I play the guitar with a band.
40Something: When you are going out in public, how do you dress?
Belinda: I love to be sexy.
40Something: What kinds of dates do you like to go on?
Belinda: Spontaneous ones that end with sex.
40Something: Are you a swinger?
Belinda: Yes. I love swinging!
40Something: What's the wildest thing you've ever done?
Belinda: I got my pussy fisted by a girl in the middle of a swingers party. She made me cum so much!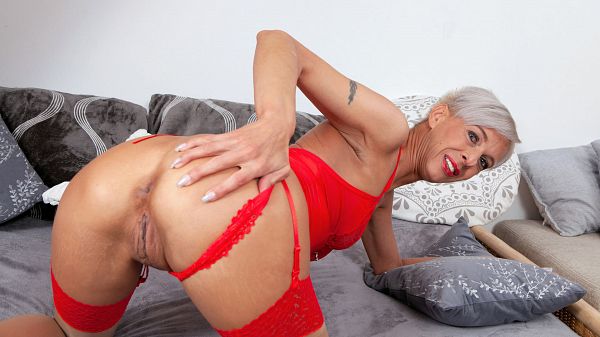 See More of Belinda Bee at PORNMEGALOAD.COM!