The Ricki Raxxx Rack Attack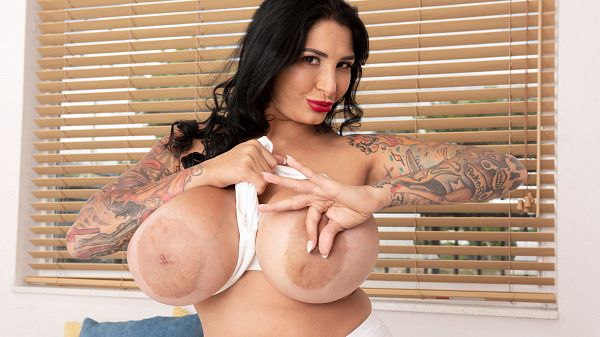 Ricki Raxxx keeps her slim, sexy and traffic-stopping body in perfect shape. Maybe traffic-stopping is too mild a description for a woman who's only 5'3″ without the heels and wears a 34M-cup bra! A true showgirl and big-boob fetishist herself, Ricki said she's not going to stop at 34M.
In this video, Ricki shows us some of the moves she does to keep herself so hot and so tight, taut and toned. She was always super-flexible. From stretches to mega-boob play to some yoga and exotic dancer moves, Ricki works it good. After this session, Ricki gives her bushy pussy some hard sexercise with one of her big toys.
After her pleasurizing plugging leads to a major and very vocal cum, Ricki licks her toy, wet from her hot pink hole. There's something about a girl tasting her own pussy juice off a finger or toy that's unusually hot.
"Ricki looks great," wrote SCORE magazine editor Dave. "She was always very sexy, and I think she's gotten sexier as she's matured. Thumbs up to her boob magician. He did a heckuva job. However, Ricki's pussy has always been my first or second favorite part of her body, and it remains sensational."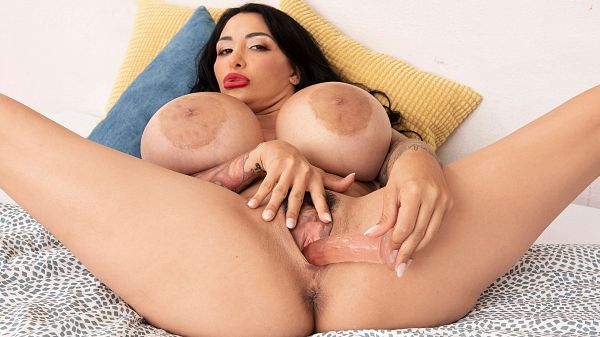 See More of Ricki Raxxx at PORNMEGALOAD.COM!