Kitty Cute: Slow Dancing In The Big Titty
Kitty Cute: Slow Dancing In The Big Titty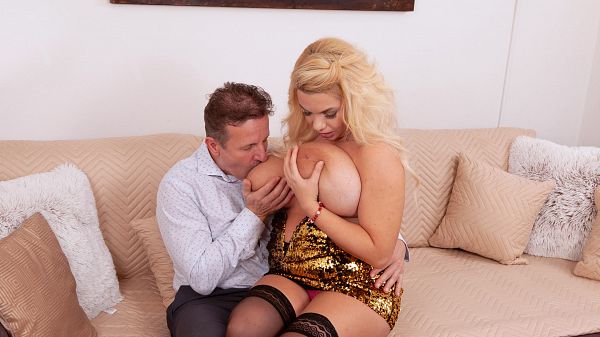 Kitty Cute and George are in Kitty's apartment making small talk after their date, although there is no such thing as "small" talk with a boob goddess like Kitty. They share a bottle of wine and relax in her living room. George is in no rush to leave. No guy would be in a rush to leave this bra-busting kitty-cat. He's glued to Kitty and can't keep his eyes off her enormous boobs. He reaches out to touch her tits and get her to gaze into his eyes but Kitty is a little evasive, admitting "it's complicated."
George figures a little slow dancing will warm Kitty up and get her in the mood for more advanced clinching. She likes the idea of dancing and plays some music. George loves the idea because he can press against Kitty's warm body.
George gets to undress Kitty during their dance and feel her up. He worships her boobs, something that Kitty enjoys. She takes his cock in hand and plays with it. So far, so good.
George lays Kitty out on her couch and oils her naked tits, preparing her to be tit-fucked. He fondles her slippery nipples and heavy breast flesh. This is the tit-man's ultimate goal: To have a girl like Kitty with enormous hooters. Kitty squeezes her boobs together so George can fuck them and continues to jerk his cock. She then slips off her panties, now ready for George to take her pussy.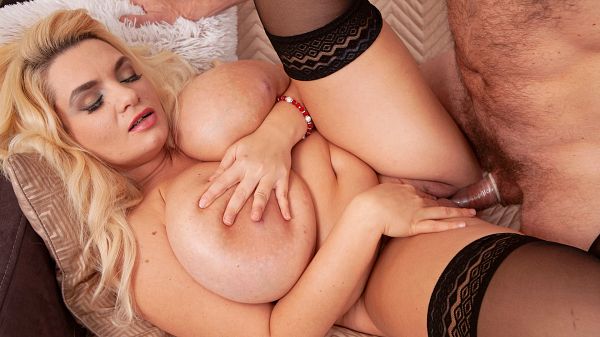 See More of Kitty Cute at PORNMEGALOAD.COM!