Anna Katz: Many Ways To Fuck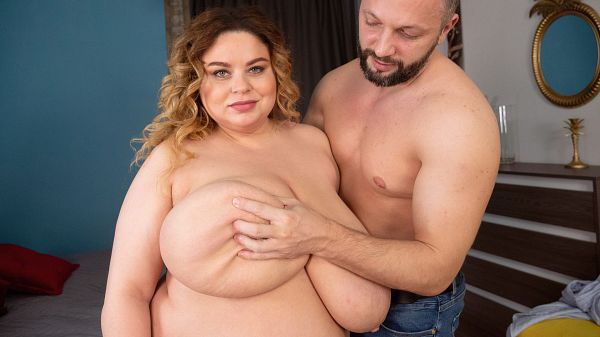 Wearing a button-down shirt and nothing else, Anna Katz walks into the bedroom to give Nikolaus a hard time. And when Anna walks into a room, she owns it. She gives Nikolaus a bra modeling show. A smoldering, erotic bra modeling show filled with breathy moans.
Nikolaus joins Anna's bra party, unhooking her and sits Anna down so he can suck on her massive tits, squeezing and rubbing them. Her boobs are so big, they flop and spill over his hands.
Anna's boobs and ass cheeks get oiled after Nikolaus gives her pussy some tongue action. They go to the bed, ready for more. Anna depants Nikolaus and jerks and sucks his dick. She lies on her back so her breasts can get his cock between them. She sucks on the head of his cock, plays with her tits and squeezes them together to massage his shaft.
Anna spreads her legs and gets them up in the air, ready for Nikolaus to fuck her in the missionary position. As Nikolaus poles her pussy, she glances at the camera. He turns her around and fucks her pussy from behind, feeling her big ass cheeks.
While Anna is still on her hands and knees, ass up, Nikolaus inserts a toy into her butt hole to open her up, then takes it out and fucks her ass. This couple gives their all, and they're in no rush to get to the finish line.
See More of Anna Katz at PORNMEGALOAD.COM!