Full of surprises, full of fuck toy
Full of surprises, full of fuck toy
We fondly recall the first time 62-year-old wife, mother and grandmother Nicol Mandorla showed off her beautiful body, played with her pussy and fucked for our viewing pleasure. That was a very happy day. Nicol, from the Czech Republic, was only 57 years old at the time.
"I signed up with an agency, and they contacted me and asked me if I would like to do this," she said. "I thought about it and said, 'Okay.' I thought it would be fun, and it is."
Today, Nicol has fun on her own with one of her favorite dildos, a big, thick one. And Thursday, Nicol is going to fuck again. Not bad for a granny!
"My children would be very surprised to see their old mother in a naughty magazine and on a porno website," she said. "I am not a person who is usually an extrovert. I am usually very conservative. I am not a swinger, and I am not a nudist. I know some people who are very wild sexually, but I am not one of them and this would surprise them."
We love a woman who's full of surprises…and whose pussy is filled with a fuck toy.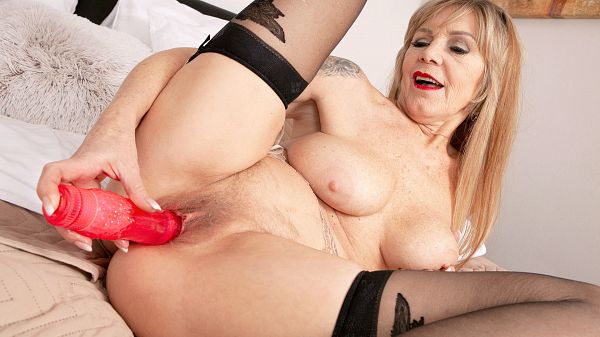 See More of Nicol Mandorla at PORNMEGALOAD.COM!