Molly Evans: The Bra-busting Girl In The Tight Dress
Molly Evans: The Bra-busting Girl In The Tight Dress
Molly Evans bounces into the room, excited and full of teen energy. Hello!" Molly says, upbeat and excited. She loves being on-camera and she's a fast learner.
The dress Molly's chosen is tight and low-cut, and when she walks to the camera, her enormous boobs jiggle and quiver. She spins around to show us how her dress looks on her.
"Look at that dress. Do you like it?" The photographer moves the camera to signal no. "Why not?" Molly pouts and sits on the arm of the couch with her back to the lens. With some encouragement, Molly's pouty face changes to a smile again. She's ready to continue the big show. Molly should always smile. She's too pretty to pout.
"I think I know you like it when I'm just naked, without clothes. Then let's take our time and get rid of it."
Sweet-faced Molly takes out her big, sexy tits but takes her time before completely taking off her dress. She's not wearing any panties. A picture of voluptuous femininity, Molly shows off every luscious part of her curvy body and spreads her pussy so her sticky fingers can dip in.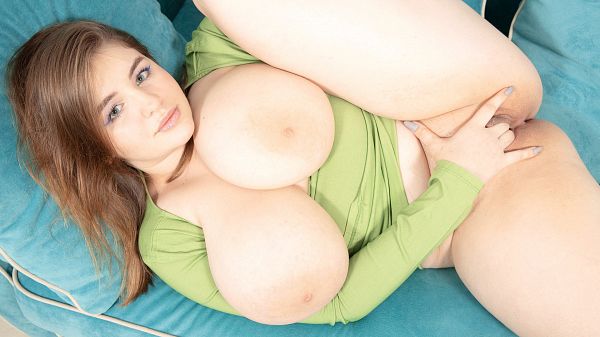 See More of Molly Evans at PORNMEGALOAD.COM!