Stacie Visits The Men's Room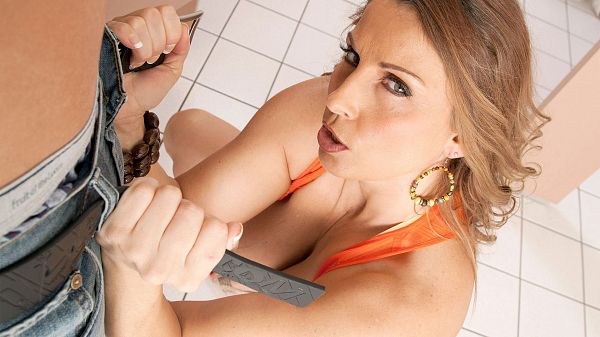 Ever since moving to Florida, Stacie Starr has been taking off her clothes to show off her 36D-cup tits and round ass in the sun. Stacie's great body is tanned all over. "I became a nudist sunbather when I moved to Florida in 1994."
20 years and we only just recently learned about her? "I love the feel of the sun on my body and not having any tan-lines." Stacie also loves: "Sucking cock. I'm orally fixated. I'm also into hair pulling and ass spanking." Stacie is a real MILF with a son, not a phony porn MILF from Los Angeles.
The busty brunette's blow job, tit-fucking and hand job in the SCORE men's room deserves some kind of award. Perhaps the Palm D'Or. A separate award should be given to Ms. Starr for her absolutely filthy, dirty mouth. She has one of the dirtiest mouths a man could ever enjoy in the relative privacy of a men's room. The SCORE Group male staff were happy to hold it in while Stacie went down on her acquaintance.
Stacie is a pro at milking man-bags. "I go straight for the cock. I stroke it and rub on it then get it into my mouth and work my magic. I love feeling and watching it get bigger. It's the best when it stretches my mouth."
Watch the magic unfold and witness a real cougar at jerk. Is Stacie Starr this wild back home?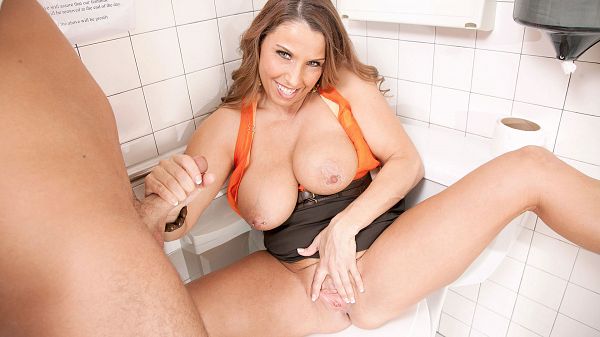 See More of Stacie Starr at PORNMEGALOAD.COM!