Minka & Danni Ashe
During the Big '90s era of the classic SCORE Girls such as LA Bust, Traci Topps, Angelique and many more, girl-girls were very popular. It was also a way to get some explicit sex (at least in the video version of a scene) with the girls who would not fuck guys on-camera, such as Colt 45 and Tawny Peaks.
East Meets Chest was Minka's first girl-girl in November 1994 SCORE immediately following her debut in the October '94 issue. Minka was paired with the queen of the mainstream internet as she would be known a few years later, Danielle "Danni" Ashe. To charter SCORE Men, the realization that Minka and Danni had at it twenty years ago may be a jolt.
Danni only did girl-girls, as many big bust fans know, and did a lot of them at the SCORE studio in London, England. Her bed (or couch) partners in the '90s included SaRenna, Chloe Vevrier, Becky Sunshine, Linsey Dawn McKenzie, Lisa Lipps, Traci Topps, the late Valerie Fields and more.
Most of these buxom beauties out-gunned naturally busty 32FF Danni in the breast department but not in the worship of nipples, pussies and other girl bits. So she was a hot sex-buddy for newcomer Minka.
At this time, Minka wasn't the mega-boobed "Tit-an" she would gradually become, so the contrast here is more the exoticism of a tanned and brunette Asian hottie getting it on with a honey-blonde South Carolina native.
In the first part, Danni is the assertive one, licking Minka's furry cunt and stiffening her hyper-sensitive nipples (which a cool breeze can get erect). Minka repays the favor by eating out Danni's golden-haired snatch. They get into a 69. Danni fingers and tongues Minka's hole, sucks on her nipples some more and then fucks Minka with a big cock-shaped toy.
Danni retired in 2006 after selling her website and related companies following an amazing run as an early pioneer of the adult web. Minka is still active to this day while most of her peers have left the world of stripping, modeling and porn.
A classic pussy love-in scene of two magnificent beauties.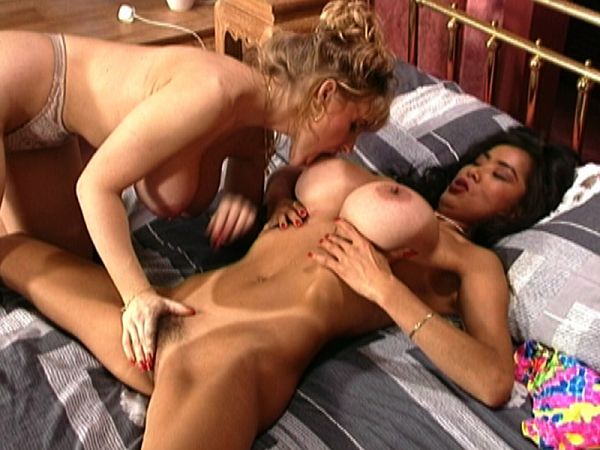 See More of Danni Ashe at MEGATITSMINKA.COM!