Violetta: Exotic, Erotic, Sexotic
Violetta: Exotic, Erotic, Sexotic
Violetta is a naturally busty and exotic, erotic beauty with a slender, flexible body made for sex. She has a sky-high sex drive, and whether she is fucking in a video scene or fucking at home, she doesn't "perform" in a porn actress way. She makes it real. On-camera or off, she's being herself, Violetta.
Violetta loves the big D and her partner Liam is hung the way she likes it. In the opening of this scene, Violetta has Valentine's Day-style pasties with tassles stuck on her nipples. In the bedroom, Liam fondles her delicious body, makes out with her and helps her undress. He takes off her pasties so he can give her nipples a good sucking.
Kneeling on the floor, Violetta takes his balls in her soft hand and smokes his pipe, occasionally making eye-contact with the camera with his cock in her mouth hands-free. She wedges his dick between her tits and, squeezing her breasts together, polishes his pole.
Violetta slips off her thong and turns around with her back to him so he can stick his dick up her pussy. She bounces fast on it and the angle the camera is positioned in lets us see her being fucked and her tits bouncing. In one smooth move, Violetta leans back, gets into a squatting position and rides his dick as her tits swing. Violetta fucks like a dancer or an athlete. Her moves are graceful, agile, horny and hot.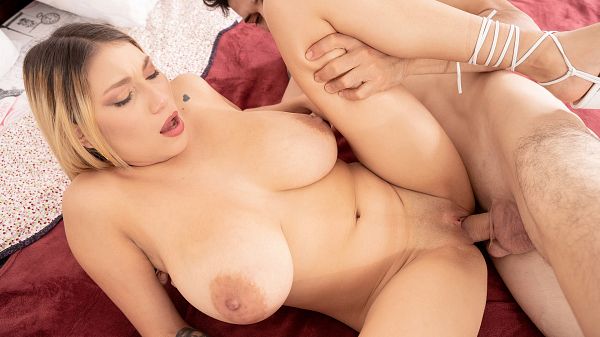 See More of Violetta at PORNMEGALOAD.COM!