Demora Avarice: Boob Massage, Tit-fuck & Blow Job
Demora Avarice: Boob Massage, Tit-fuck & Blow Job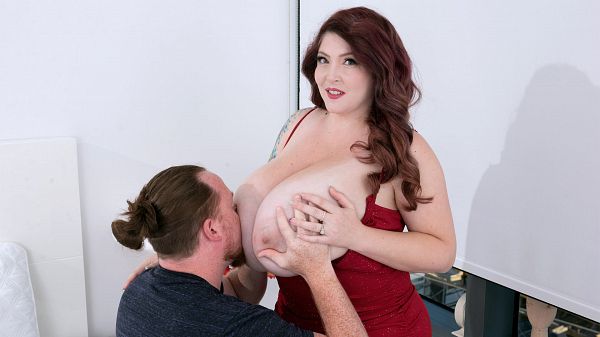 Demora Avarice is all dolled-up in a tight, low-cut dress and waiting for her man, Grievence. She's going to take him to the ultimate boob-pleasure zone with her massive tits and soft lips.
Grievence gets behind Demora and feels her breasts, squeezing and kneading them and pinching the nipples. Kneeling in front of Demora, he sucks her nipples and buries his face between her boobs. She squeezes them together, his head in the middle.
Grievence gets on his back in bed, Demora on top. Demora lowers each giant breast on his face and then covers his head between her huge hangers and jiggles as she giggles. Demora and Grievence play a few boob games with a belt.
Kneeling on the bed, Demora takes his cock out to suck on. She makes lip-smacking sounds as she deep-throats him. Still kneeling, Demora holds her tits up in the offering position so he can fuck them. Getting on her back, Demora gets her tits fucked some more. She wants more cock in her mouth and goes down on him again. They alternate between tit-fucking and dick sucking. Seeing a cock disappear between Demora's breasts is epic.
See More of Demora Avarice at PORNMEGALOAD.COM!