Amber Alena's Slim & Stacked Body is Perfect for Hot Sex
Amber Alena's Slim & Stacked Body is Perfect for Hot Sex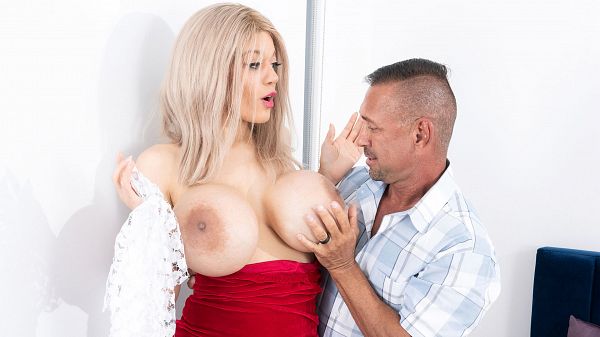 Amber Alena is thrilled to find Peter Fitzwell at home. She's just returned from a shopping spree at stores where the hot girls buy their sexy clothing and she's breathless from the excitement of finding outfits to fit her sweet body. She can't wait to show how her purchases look on her ultra-slim, big-busted figure.
Amber is lucky to get to try on even one dress. As soon as she walks into the bedroom where Peter is reading in bed, he gets up to lower her dress and suck on her nipples. After she tries on a white dress for him, Peter maneuvers her onto the bed. Amber's eyes light up with delight when he takes his cock out. Just the sight of her naked in bed makes him rock-stiff.
Eager to put it in her pretty mouth, Amber unzips his pants to see what he's got for her, and when she sees Peter's cock, she's eager to feel it in her hand and lick, tickle and suck it.
Peter places his cock between Amber's huge breasts. She stretches out on her back so he can straddle her chest and fuck her tits. She sucks on the tip of the dick and licks it, staring and smiling at him.
Amber stays on her back and watches Peter move over to her side to fuck her. When he slides his cock into her tight pussy, she fingers her clit. Warmed up, she wants more. Turning over and getting on her knees, Amber waits for Peter to fill her up from behind. Amber is so limber and flexible that she can get into any position easily and smoothly.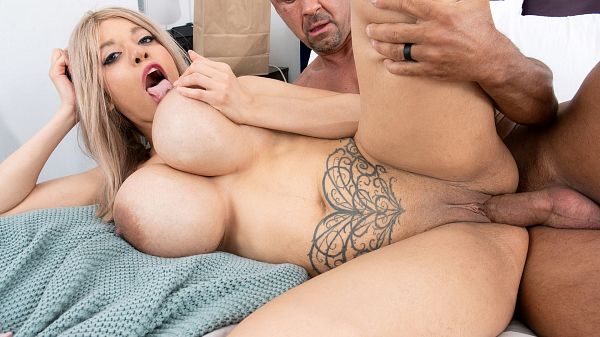 See More of Amber Alena at PORNMEGALOAD.COM!