Doing The Nasty With Milly Marks
Doing The Nasty With Milly Marks
You're punching in your door code, but your girl Milly Marks is already there, waiting for you so she can take you straight into the bedroom. The sultry brunette with the bang-me eyes sucks on your finger in her seductive way and takes you by the hand to walk you to her place of pleasure, hot sex hooter heaven.
Milly sits on the edge of the bed, a wine glass in her hand. Your hands reach out to squeeze her big, beautiful, heavy yet pliable tits and you take them out of her dress. You palm them and push them toward her lips so Milly can give her nipples a suck.
"All day I've been thinking about your cock between my big tits," Milly says, her eyes inviting you to enjoy her lush, soft body and take her now. She sucks on your thumb until your dick can take its place. She's eager and ready now to give you a messy blow job-sucking, licking and jerking your shaft. She stares into your eyes so she can read the pleasure her talented mouth is giving you.
Jerking you, she taps your wet cock against her nipples, but only for a few seconds because she really wants your dick in her throat. Squeezing her tits together so they sandwich your meat, you pump her thick, fat tits. You stick your thumb back into her mouth to keep her oral needs satisfied until she can blow and double-jack you with both of her dainty, soft hands.
You lie on your back and Milly straddles you, playing with your cock. She can't keep her hands off it. She turns to show you her round bottom as you pull off her sheer teddy and play with her pussy. On her knees, Milly sucks your dick again and climbs on top facing you, grinding and squeezing your fucking cock. Her big, hanging jugs swing wildly. She sucks and squeezes her twin treasures, something she knows you like to see and something she likes to do when you're fucking her.
Milly wants more and flips around, her ass facing you, and rides your pole, moaning and crying. She wants more, more, more and you're going to give it to her.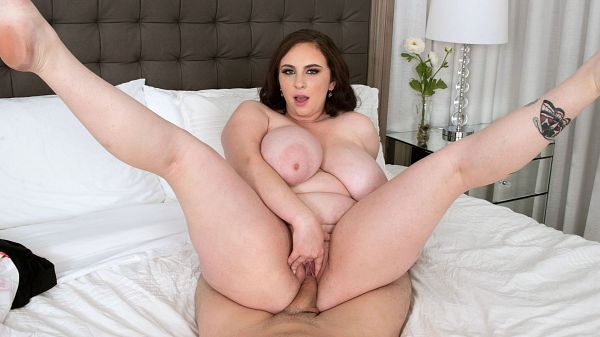 See More of Milly Marks at MILLYMARKS.COM!