Watch Me Fuck!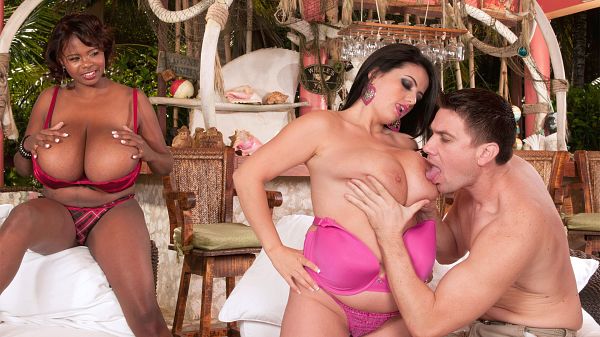 This Mammary Mambo encounter between Arianna Sinn of Romania and Miosotis of the Dominican Republic goes way beyond just a pairing of gigantically-chested ladies.
Arianna has climbed on top of a dude in a tropical hideaway in the lush Dominican Republic. Miosotis watches intently and plays with her huge tits as Arianna and the cocksman enjoy each other. Arianna gets up and walks over to Miosotis. They share a deep French kiss with lots of tongue action. Arianna goes back to her man and her unfinished business.
Miosotis gets closer to stand behind them and continues to please herself. The luckiest man alive buries his face in Arianna's soft tit flesh and sucks her nipples. Arianna gets on her knees and takes his prick out of his shorts. She stares deeply into his eyes and lowers her head to suck him. On fire, the couple must fuck and share the heat.
Miosotis positions herself in front of Arianna every time Arianna changes her sex position so Arianna can see how much she turns Mio on. This makes Arianna feel even hotter because Mio is known as the breast and sex queen of the Dominican Republic and it is juice-inducing to Arianna for Miosotis to get excited over seeing Arianna fuck.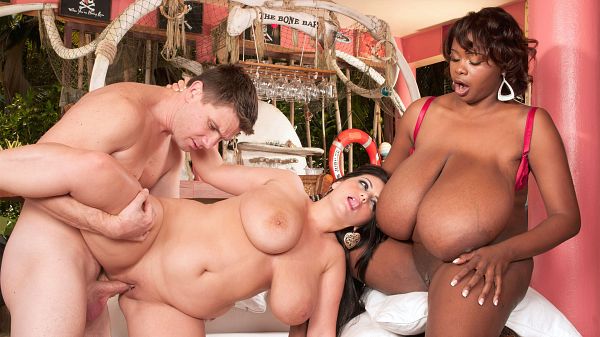 See More of Arianna Sinn at PORNMEGALOAD.COM!