Meet 56-year-old wife and mom Anzee. Meet her pussy
Meet 56-year-old wife and mom Anzee. Meet her pussy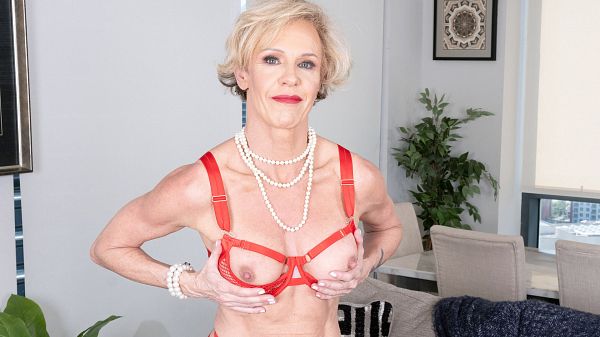 Anzee, a 56-year-old wife and mom from Portland, Oregon (now living in Texas), wants to show you the cute little outfit she has on, but you know what we think she really wants to show you? Her pussy. We think that because she keeps on playing with it and spreading it. Anzee has thick pussy lips, a pink inner cunt and a big clit, and she tells us, "My pussy is so juicy." Looks it. Anzee is one of the horniest women we've ever encountered, and if her solo scene is this good, can you imagine how good her fucking scene is going to be?
50Plus MILFs: Would the people you know be surprised to see you here?
Anzee: Most people who know me would not be surprised I am here. However, as for my family, that's another story.
50Plus MILFs: Are you a swinger?
Anzee: Yes. I've been in the lifestyle since my early 20s. One experience that stands out is a party I attended and I ended up on the stage performing cunnilingus on another woman while I was being taken care of. I was not expecting that!
50Plus MILFs: What gets you off best?
Anzee: Oral simulation is king, but a good fuck that can hit my G-spot is the bomb!
50Plus MILFs: Have you ever had sex with a much-younger man?
Anzee: I have. When I was 45 visiting my girlfriend for dinner on her river house, her son from college was home. At the end of the night, he wanted to drive me home to make sure I got home safely. I did…safely onto his love stick!
See More of Anzee at PORNMEGALOAD.COM!