Andi Peacock Wants a Sexy Bikini Day
Andi Peacock Wants a Sexy Bikini Day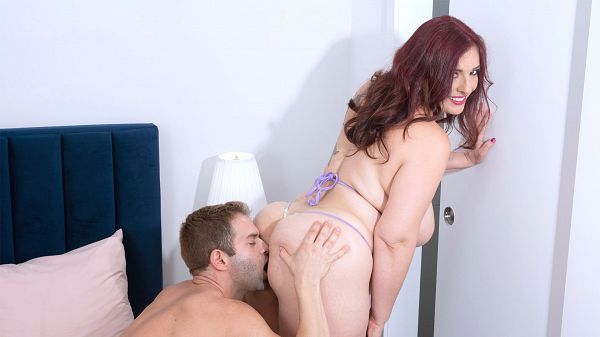 Andi Peacock wants to go to the beach. She bought two swimsuits for the occasion. She goes into the bedroom to show them to Nicky Rebel and try them on. She'll wear the suit he likes best. Nicky's not going to get any beach time lying in bed so he has to make a decision. As soon as he sees Andi's beautiful body in her sexy suits, her best laid plans make him want to get laid right away. There will be no beach for Andi today…but she does get the dick.
XLGirls: In this scene, you're trying on swimsuits for Nicky Rebel. How often do you get to the beach?
Andi Peacock: As often as possible! We moved to Florida for the sunshine and the beaches! I'd like to have more sex on boats.
XLGirls: When you go, what kind of swimsuits do you like to wear?
Andi Peacock: None, if possible. Otherwise, I love wearing my micro-bikinis!
XLGirls: What kind of reaction do you get? Do you catch guys checking you out?
Andi Peacock: Yes, especially since micro-bikinis are sheer with no padding!
XLGirls: Have your boobs ever fallen out of a bra or swimsuit by accident?
Andi Peacock: Almost every time I go! The waves always seem to pop them out at one point or another!
XLGirls: Are there any girls past or present in adult entertainment that you admire? What is it about them you like?
Andi Peacock: The first porn star that I can remember liking was Katie Morgan. I just thought she was cute and had a very bubbly personality. Since then, I have studied Sara Jay, Janet Mason and Gianna Michaels especially. I like to watch the more MILFy, older, experienced women. They have a more classy, sexy style that I try to emulate.
XLGirls: Are there any female performers you'd like to have sex on-camera with?
Andi Peacock: Lila Lovely and Emma Shay. And I was able to make that Emma fantasy happen recently.
XLGirls: Has anyone recognized you when you went out, for example a trip to the supermarket or the mall?
Andi Peacock: Yes, I was recognized at a local restaurant by a fan while getting breakfast! I've also been recognized several times at swinger events.
XLGirls: Any comments for the fans?
Andi Peacock: I am hoping to do a lot more group scenes, so make sure to bring a friend!
See More of Andi Peacock at PORNMEGALOAD.COM!