Slippery Nipples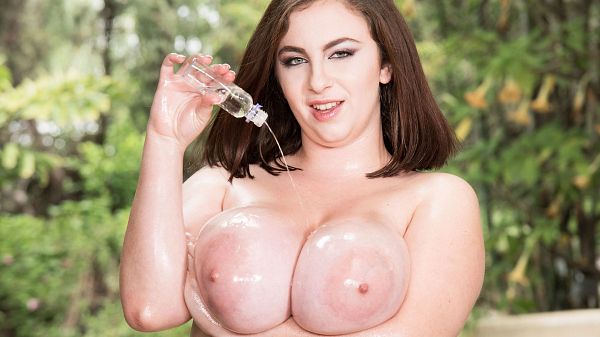 Oil and big tits: an unbeatable combination.
Milly gets plenty slippery, covering her body with baby oil. The girl who gets pulses pounding and hearts beating like bongos at a salsa music festival shakes 'em good outdoors. At first, the camera voyeuristically peeps at Milly. She does a boob-shaking dance then peels off her body suit and keeps the rhythm going.
"I'm kind of short, so people look down at me when they're talking to me, so they're looking down right into my cleavage," Milly said.
It's pretty much impossible not to look at Milly. She's a guy magnet. But, like all girls, she likes nice attention.
"Sometimes getting so much attention is nice and sometimes it's a little too much, but it's cool," she said. "As long as it isn't too creepy or inappropriate. Being called out on the street is kinda weird. I don't like that.
"I lived in Philly for a little bit, so I'd be walking down the street and men would yell creepy things at me like, 'Let's see your tits!' See, that isn't cool to me, but if I see someone in public and they're staring at me, I think, 'That's like a compliment. They're into me. That's nice.'"
See More of Milly Marks at MILLYMARKS.COM!