Angie Bravo's Bikini Splash
Angie Bravo is blessed with an incredible body and a pair of huge boobs. Also known as AngieFoxxyLove, Angie shows how truly spectacular she is in this outdoor poolside scene. Her bikini tops are strained to the max under the weight of her breasts. After modeling several swimsuits for us, Angie oils her luscious curves and spreads and fingers her pussy. Seeing Angie bounce around and splash wets the appetite for more.
"If I masturbate, I like to masturbate with vibrators and I did it very often until I became addicted, but not so much anymore…I recovered."
The former nanny said, "I like to play the guitar, socialize, cook and bounce my tits." Angie has found her calling and has natural on-camera charisma. "It depends on where I'm going and the occasion when I pick out something to wear. I can dress more modestly or show more. I like to dress in clothes with low-cut necklines."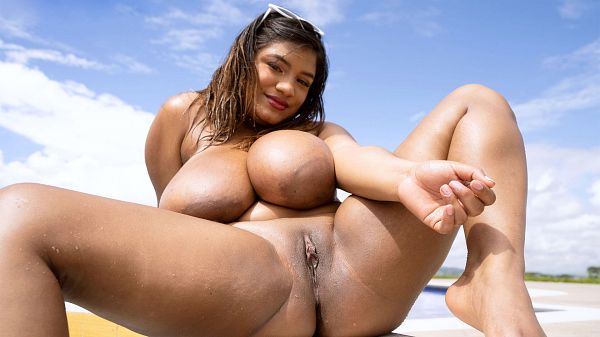 See More of Angie Bravo at PORNMEGALOAD.COM!