47-year-old Amelie Azzure returns and toys her pussy
47-year-old Amelie Azzure returns and toys her pussy
Six years have passed since we last saw Amelie Azzure and not much has changed about her. She's still divorced. She's a mom. Last time we saw her, she was a blonde, but now she's back to her natural red hair. Of course, she's older. She's 47. Amelie is a store clerk from Prague, Czech Republic, and she told us, "I dress sexy because I like it when men stare at my big tits and ass. When the weather permits, I love to wear short, skimpy clothing."
Here, Amelie strips out of her dress, shows us her sexy body and fucks her pussy with a big toy.
"The day I turned 40, I dyed my hair blonde and went out and bought a new, sexy dress," she said, "Then I went to my favorite bar and flirted with a number of men. I didn't have sex that night, but I did end up getting my pussy eaten in the bathroom of the bar. It was then I knew my 40s were going to be amazing."
40Something: What do you do for a man to make him feel special?
Amelie: Give him a long, wet blow job.
40Something: What makes you horny?
Amelie: When my lover touches the back of my neck.
40Something: Sex on a first date?
Amelie: No. I like to make him wait.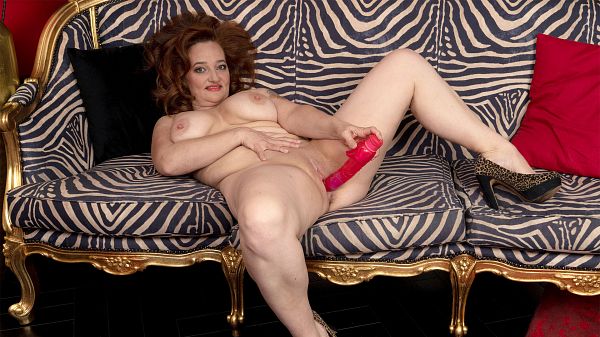 See More of Amelie Azzure at PORNMEGALOAD.COM!