Agatha Delicious teaches her step-son how to fuck a woman's ass
Agatha Delicious teaches her step-son how to fuck a woman's ass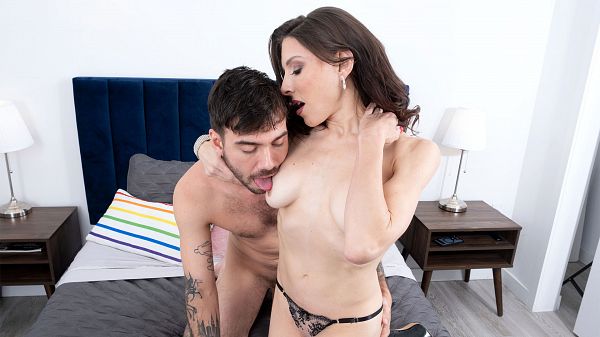 What we have here is a young man with a problem and a mature woman who can help solve it. The man is Nade, and he's on the phone with his buddy. Nade's girlfriend wants him to fuck her ass, but he doesn't know how to do it. Well, 42-year-old Agatha overhears her step-son on the phone and offers to help, but she isn't a woman who teaches by telling. She's a woman who teaches by sucking cock and taking Nade's cock in her pussy and ass.
Agatha was born in New Mexico and lives in Las Vegas. She told us, "I have participated in all types of sex play, so I could probably write a book about the games I have encountered with people. There is a lot and it's all over the place."
She's into anal. She's into women. She says she gets off best "with men, touching, caressing my body while fucking me. With myself, a vibrator. With girls, touching her, pleasuring her, feeling her body.
"I like role play and fantasy, but it can be silly and fun. Not super serious. People sometimes take kink and BDSM too seriously. None of it is real to me. It's just play."
She says the people who know her best "all know what I do and that I am sexually a free spirit."
She's very happy to be here.
"I always knew about The SCORE Group and loved the amazing content. When my agency reached out to me and told me you wanted me, I was honored."
We're honored to have her.
See More of Agatha Delicious at PORNMEGALOAD.COM!