Wake-up Sex With Natasha Sweet
Wake-up Sex With Natasha Sweet
The lovely and talented Natasha Sweet wakes up nude under her bed sheet. She smiles as she calls out for Jason to come see her in the bedroom. Natasha's had a horny dream, and now she's craving sex and a couple of orgasms to start her day.
Jason comes behind Natasha to play with her soft, huge tits. His hands are overflowing with her heavy breast flesh as he jiggles and squeezes them. Natasha watches with approval when he buries his face between her hooter hills and sucks on her nipples like a baby. Natasha joins in and licks a nipple too.
Natasha reaches around and takes his hard dick in her hand and strokes it. He buries his boner between her boobs, the first of many times he will tit-fuck Natasha. She rubs his cock on her breast and sucks the tip of his dick at the same time.
Natasha gets on her back and squeezes his cock between her mams. They move her tits back and forth very fast, and when she squeezes his cock in her hand, he squeezes her magnificent, floppy tits, sinking his fingers into them. He may not have realized it at the moment but everyone watching this pairing wishes they could change places with him. He buries his cock inside Natasha's tight, hot pussy within minutes of entering the room. She has that effect on guys. Natasha Sweet is really one of a kind and a quintessential XLGirl.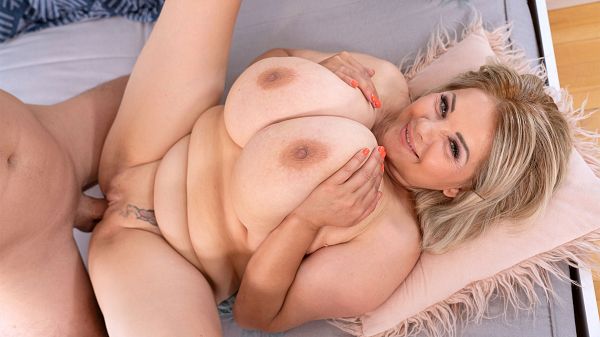 See More of Natasha Sweet at PORNMEGALOAD.COM!