Former Playboy model turns up the heat
Former Playboy model turns up the heat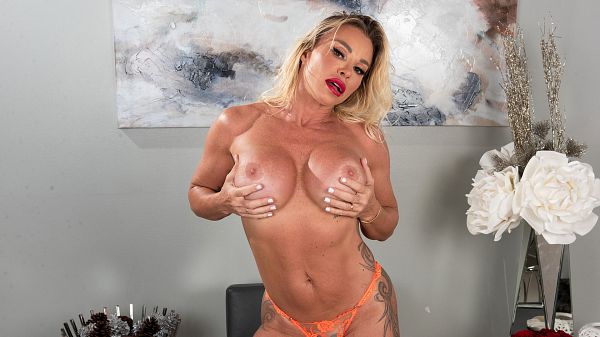 "Yes, this is Miss Robbin Banx, and I am 46. What do you think?" Robbin says at the start of this video, her first at 40SomethingMag.com. "Would you have me? Would you play with me? Would you like to see my big tits? And my cute panties? Do you think I'm sexy?
Definitely. We want to see all of Robbin, and she gives us what we want. She shows off her mint body (big tits, round, firm ass, nice, pink pussy) before double-fingering herself until she cums. It's a nice introduction to a woman who probably needs no introduction. She's a former Playboy model who, when known as Zoe Gregory, was one of Hugh Hefner's girlfriends for a time. She also got some attention when she told the tabloids that baseball star Alex Rodriguez had hit on her before proposing to J-Lo.
Two things about that: First, Hef obviously had good taste; second, A-Rod obviously picked the wrong woman to give his rod. Robbin will get the rod from one of our studs in her hardcore scene on Thursday.
Robbin, who has one kid, told us how she made the jump from tame, lame Playboy to shooting photos and videos that a guy can actually jack off to.
"I was shooting a lot of Playboy stuff and I had a lot of my fans ask me to take it to the next level," she said. "Everyone was spreading their legs, so I thought I might as well do it for legitimate companies and work with some great producers, and so far, it's been successful.
Robbin lives in Fort Lauderdale, Florida. She enjoys going to the beach, working out, eating out and traveling. We asked her what kinds of guys she likes, and she said, "Young, toy-boy, kind, good manners." Screech!. Did she say "young"? Hef was an old fart! But her current guy is 24, so there you go.
Her kinkiest sexual encounter: "An orgy at the Playboy mansion."
And get this: "I dress down in public because I'm shy and don't like to draw attention to myself."
Good luck with that, Robbin.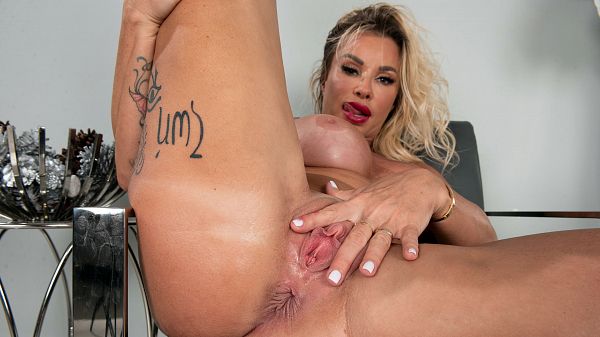 See More of Robbin Banx at PORNMEGALOAD.COM!