Ally Rayz: Huge-Boobed Scream Queen of XLGirls
Ally Rayz: Huge-Boobed Scream Queen of XLGirls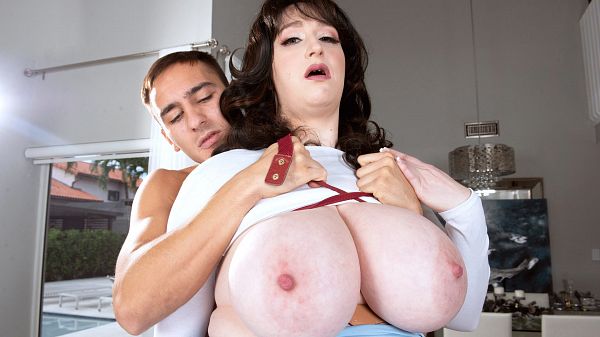 Ally Rayz opens her curtains and sees Milan outside her ground-floor apartment. She could use a man around her place and catches his attention by taking out one of her massive hooters and tweaking the nipple. She makes sure Milan sees what she's doing. He comes over to the window to get a better look.
Ally presses both tits against the glass. She is not the type to give him a printed invitation but is more of the direct type of woman, especially when she wants sexual satisfaction. Ally tells Milan to come in, and in a flash, he's on her breasts, sucking, squeezing and rubbing her soft, pale, fleshy hangers.
Milan has Ally sit on her couch and pulls his panties down. His stiff dick pops out like it's spring-loaded, ready for Ally to deep-throat all the way down. She holds his cock by the balls and sucks. He feeds her the pole, pulling it out of her mouth a few times to make popping sounds. With her fun-sized knockers at groin level, Milan fucks her tits. Her breasts are so big, his dick disappears inside her cleavage.
Ally lies back, ready to get fucked. Milan spits on Ally's shaved pussy to add some natural lube and drives his cock between her thick lips. As soon as he starts fucking her, Ally, who is not a professional porn performer, begins screaming and never stops. And we mean Ally screams her head off for real at very high decibel levels. Milan keeps his thrusting hard and strong the entire time. It was fortunate that the neighbors didn't get curious about all the screaming.
See More of Ally Rayz at PORNMEGALOAD.COM!