Natasha Sweet: Sweet Dreams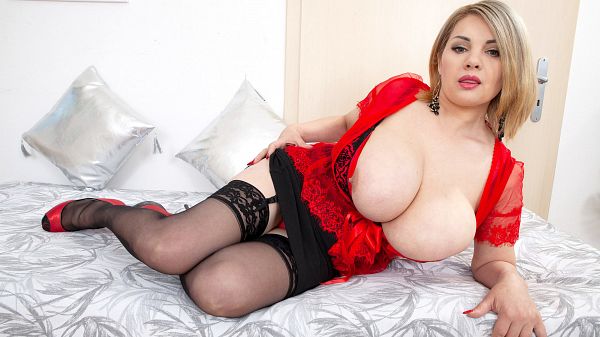 "I like the feeling when a guy looks at my big breasts and he gets nervous and excited." That comment was made by Natasha Sweet when we first filmed her.
Natasha has been missed, so getting a message from her in Italy that she wanted to show her sweet treats was an unexpected great pleasure. The blond hair is a change from the jet-black. She looks spectacular as always and her huge tits never fail to amaze. We welcomed her return and, in addition to this scene, she did a shoot with a stud.
"It makes me feel very beautiful from the inside out when I am wanted," Natasha told us. "When I hear a man say that he wants me, this excites me. I like a man to take command. He must be good to me and treat me well. I don't enjoy it when a man pretends to be a challenge. I feel this means he is not sincerely attracted to me." Natasha is not one for game-playing. She prefers the direct approach. "A man must have confidence," Natasha emphasized.
See More of Natasha Sweet at PORNMEGALOAD.COM!