Laundry day at the Taylor household
Laundry day at the Taylor household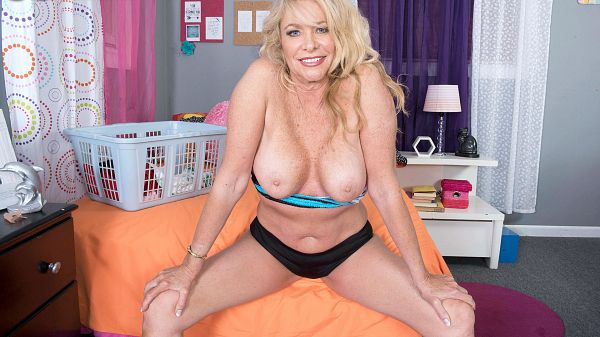 Lauren Taylor, a 56-year-old divorcee and mother of two from California, is doing the laundry. Sounds boring, no? No! She's doing her daughter's laundry and thinking about what some of those clothes would look like on her.
"Where does she get all these slutty clothes?" Lauren wonders as she checks out one pair of panties after another.
Hey, like mother, like daughter. And we like mother!
Well, Lauren does try on her daughter's clothes, but doing it gets her so horny, she starts playing with herself. And before we know it, Lauren is lying in her daughter's bed and playing with her nicely furred pussy and fingering her tight asshole.
We asked Lauren when she realized she was a MILF, and she said, "That would have been when my son had his friends over. That was hell. For me it was embarrassing. He had to beat them up and stuff, and then he got kicked out of the group. A couple of them were very blatant. I had a pool, and I'd catch a group of boys watching me swim and lay out. Or they'd come into my bedroom. You know, they'd walk towards that part of the house and just wander in. It was pretty obvious."
Her son's friends were walking around with hard-ons whenever this hot mom was around.
"And telling me when they were gonna turn 18," she said. "It was pretty funny. And I'd say, 'No, you're still my son's friends, so that's not going to happen.' My son's group of friends is still off-limits for me."
By the way, it's very obvious in this scene that Lauren is into anal. She pays as much attention to her asshole as she does to her pussy. When she's with a guy, she'll let him know when it's okay to enter her asshole.
"I'll say, 'Fuck me in the ass.' I make that determination. It's not for him to decide."
Got that?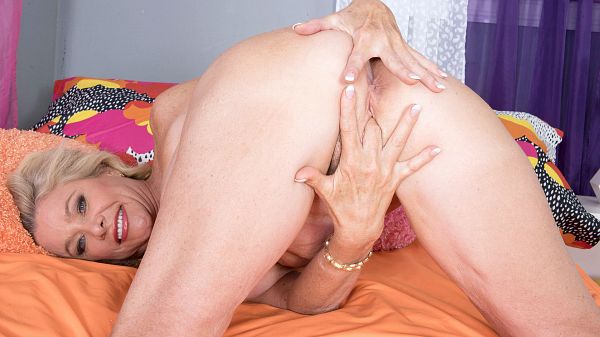 See More of Lauren Taylor at PORNMEGALOAD.COM!