Jordan Pryce: Ass Up For Anal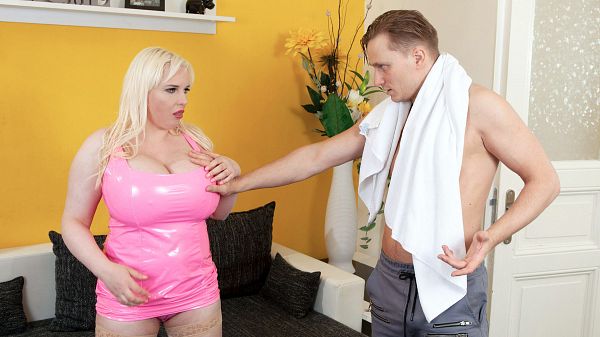 Hello, Jordan Pryce. When the blonde Amazonian bombshell is standing or on her back, she can't see her feet. The kind of girl SCORE was created for.
Jordan is trying on a tight pink Latex dress while she waits for Stanley Johnson to show up. She's squiggling and wiggling and trying to adjust her breasts when Stanley arrives ready for the gym. He's puzzled and wants to know why Jordan is wearing a sexy, little dress instead of being dressed for the gym. Well, guess what, Stanley. No gym for you and Jordan.
Jordan want to "sexercise"-to use her word-on her couch and Stanley isn't going to change her mind. She squeezes his roll though his gym shorts and practically pushes him on the couch, pulling his face into her gigantic tits. It's a rack attack.
Jordan goes down on him for a hot sucking and fucks his cock with her boobs. She tells Stanley in her sing-song, babydoll voice to stick it in her pussy. Jordan moans when she speaks, even in ordinary conversations. He pumps Jordan on her back and from behind, her tits hanging, swinging and dangling.
"Fuck my ass," begs Jordan. "Are you sure?" replies Stanley. Sure, she's sure. Jordan loves to get her ass dicked.
After ass-fucking Jordan from behind, Stanley turns her over to bang her ass some more in a missionary position. Jordan rubs her clit fast as he plows her butt-hole. For two people who didn't go to the gym, they get a pretty good at-home workout.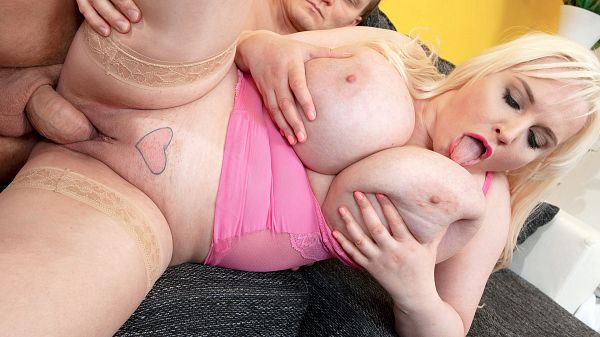 See More of Jordan Pryce at PORNMEGALOAD.COM!