Rita's toy and cock air-tight scene
Rita's toy and cock air-tight scene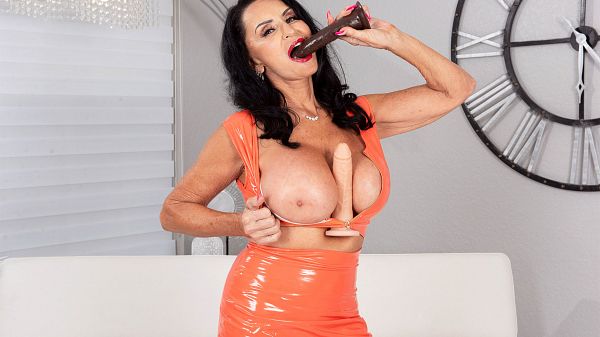 "It's so nice to be back at 60PlusMILFs," big-titted Rita Daniels says. "Here I am, two years later, 71, and I'm just beginning. So today, I'm going to get DP'd. Only problem is, I'm missing one dick, so I'm going to have myself a nice dildo."
She takes out her big, black dildo and tells her stud, who's off-camera, "I can't wait to have you in my ass, baby."
Is it just our imagination or did the dildo get harder and longer when she said that?
"And my pussy. My wet, wet pussy. Do you want to stick your big cock in my cunt?"
Did she say cunt? Of course she did. She always does.
This video is a long one at over 37 minutes, and it's packed with non-stop raunchy action as Rita shows off her sloppy, gagging, deep-throat blow job skills and also shows off her coordination by 1.) Fucking her pussy with the dildo while sucking cock and balls; 2.) Fucking her ass with the dildo while Nicky fucks her pussy; 3.) Sucking the dildo while her ass is filled with real cock and her pussy is filled with toy. This is not beginner sex, but Rita is no beginner. She's our most-fucked MILF/GILF ever.
After the guy somehow holds back for well over a half hour, he finally empties his balls into Rita's mouth and on her tits. She sucks off the excess cum and plays with it.
We repeat: This woman is 71 years old! Amazing.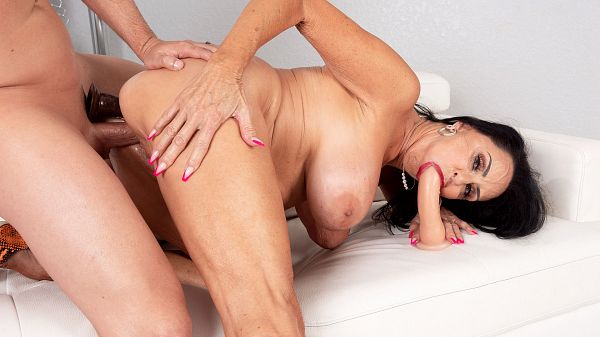 See More of Rita Daniels at PORNMEGALOAD.COM!