Angela's little orgy
In this scene, shot in St. Maarten, the Caribbean, Angela has a big bang, and she's got fellow SCORE Girl Maggie Green as her busty, sexy wing-woman to help her pull it off. Two women in one bed, one dude, the #1 fantasy of most guys.
Before this scene was shot, Angela said about Maggie, "I think I'm just going to go nuts on her. I'm going to eat her pussy like no one ever has before. I really love eating pussy. And I think we'll just jump Juan. Tear him apart. He's going to be in parts by the time we're through!"
When Maggie did her first full XXX later on (she only helped Angela with the cock in this scene), she talked about this threesome.
"It did feel a litle third-wheelish, but I still had fun. It was a hot scene. But it was one of those things where I thought, 'Hmmmm, maybe I should join in.' But I wouldn't want to do it on impulse. I wanted to be sure. I've had threesomes in my personal life where I was involved, but I've never sat there and…well, I was involved to a degree. I helped put the cock in Angela's pussy. That was fun. I liked doing that. I don't know why. It felt dirty. Putting somebody's cock in another chick's pussy."
In the end, Angela got all the cock and all the cum. And she also got Maggie's pussy.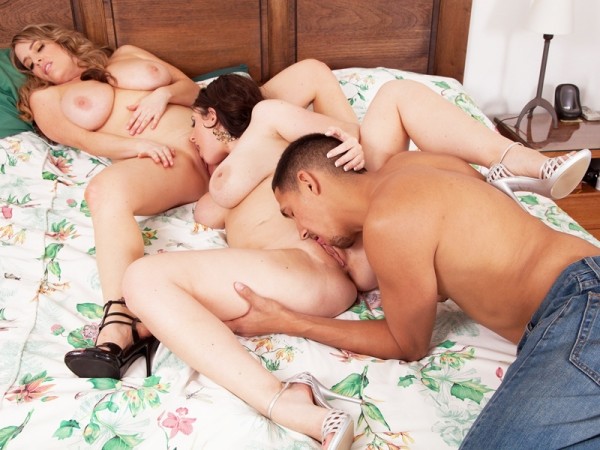 See More of Angela White at BIGTITANGELAWHITE.COM!