Helen Star: Workin' at the Car Wash
Helen Star: Workin' at the Car Wash
Helen Star made our car wash dreams come true with this soapy scene. This is old-school, sexy babe auto-buffing with a hose, sponge and bucket. No automated roller machines to drive into. We've got Helen wearing a white tank that sticks to her lovely body and bikini bottoms. This is high-quality car maintenance. And the black-haired Romanian beauty does it in sky-high heels. Amazing. What a chassis. What a fantastic, load-bearing framework. Look at those bumpers. And the car is good-looking too.
"I like to play in the shower," said the always cheery and happy Helen. She seems to be attracted to water. "I like to sing in the shower, too. I dream of having sex in a pool.
"I like a lot of attention and I think it's fun to see men losing their minds over me and my cleavage. I like to dress very sexy, but it doesn't matter what I put on, my boobs stick out. Guys are always asking me questions about my body."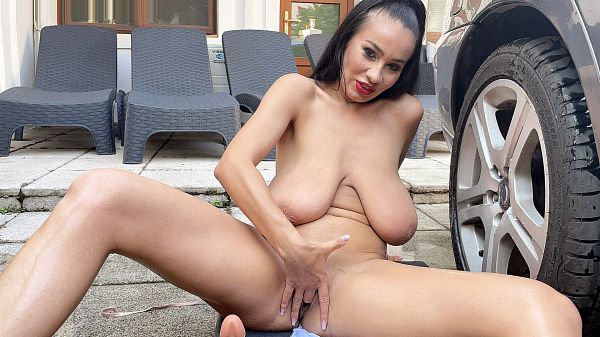 See More of Helen Star at PORNMEGALOAD.COM!