The Training of Laura Tithapia
The Training of Laura Tithapia
Wearing lingerie and black stockings, Laura Tithapia waits quietly for Steve Q. to walk into the bedroom. She sits in a chair by the bed, eager to taste his cock. Steve has a lot to teach newbie Laura about fucking and dick-sucking on-camera and she is eager to learn all she can. He has a good student in this thick and busty brunette. She does everything he tells her to.
"This is the best thing I've ever done," said Laura, the kind of girl a tit-man wants for a steady. She was looking for something fun and something profitable instead of slaving for eight hours a day in a crummy job. "The SCORE Group liked my looks and my big tits and I am happy for that. I like strong sex and big dicks and Steve gave me that."
Steve and Laura do the rare reverse tit-fuck that is always very hot. She is on her back, head over the edge of the bed. Steve stands behind her and fucks her mouth, then gets on top of her and fucks her big, heavy tits in the reverse direction while Laura sucks his balls.
"I need sex twice a day every day," added Laura. "I need to find a guy who can give me that."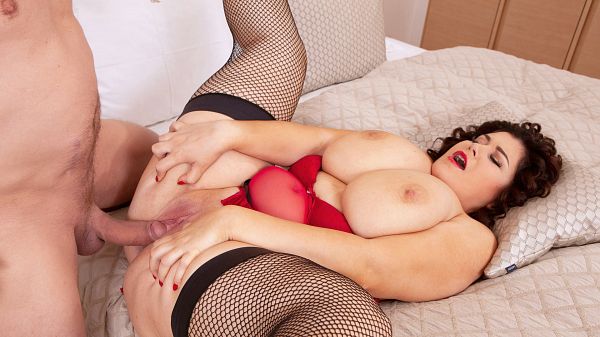 See More of Laura Tithapia at PORNMEGALOAD.COM!