Samantaa Lee: After-party Party
Samantaa Lee: After-party Party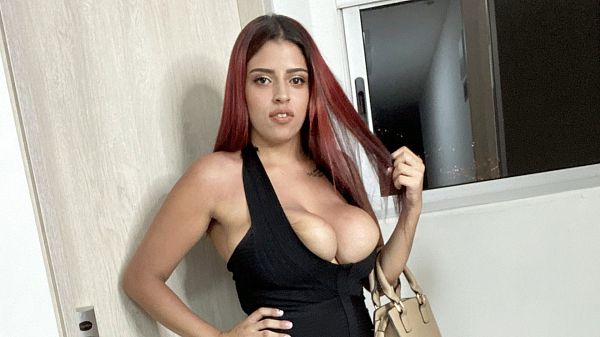 Webcam girl Samantaa Lee gets home from a party but she is not ready to go to sleep. She's hot, tired and horny. Did we mention she's hot? Samantaa's tits are close to popping out of her tight dress. She must have caught a lot of eyes before she got home. Samantaa takes her tetas out to look at them and admire her slim body in the mirror. They're big, natural and pliable. She can easily self-suck her nipples.
Samantaa needs to cool off her hot body with a shower, so she gets naked and soaps up. She presses her tits against the shower's glass door. While she's showering, Samantaa reaches for the fuck-stick she keeps stashed there and pumps that dildo into her pussy fast and hard. Samantaa keeps a chair in her shower so she can masturbate comfortably and not sit on the floor. When she's about to cum, Samantaa starts panting and sticks her tongue out.
SCORELAND: Tell us about yourself, Samantaa. What are your hobbies?
Samantaa Lee: I like to go to the movies, go out to eat and go to parties.
SCORELAND: What do you want to try in life that you haven't done yet?
Samantaa Lee: Travel, fulfill my personal goals, meet new people and be a great model.
SCORELAND: What style of bras do you buy?
Samantaa Lee: I shop for bras that can hold up my breasts well.
SCORELAND: Do you always wear a bra?
Samantaa Lee: Yes, most of the time. It depends on what I am wearing and doing.
SCORELAND: What do you wear to draw attention to your breasts?
Samantaa Lee: I like blouses that show off my assets. I like my breasts to look good. I thought my breasts looked good in my black dress in this video.
SCORELAND: Do you get a lot of attention because of your chest?
Samantaa Lee: Yes. When I walk down the street, men always look at me. I like them to admire my beauty.
See More of Samantaa Lee at PORNMEGALOAD.COM!