Mona Marley: fuckin' work of art
Mona Marley: fuckin' work of art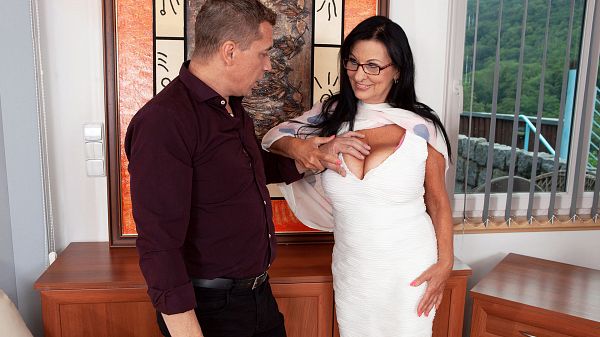 Steve is looking to buy some art, but what he's really evaluating is the tits on his saleswoman: Mona Marley. Mona knows how to close a deal. She's wearing a figure-hugging dress that shows off her big, natural tits, and you can excuse Steve if he can't focus on the deal. When she notices his wandering eyes and lets him cop a feel of boob, it's time to put the papers aside.
There's a lot of tit-fucking in this scene, as there should be, but Mona pays plenty of attention to his cock and balls, too. They fuck, of course. Hey, dude, don't shoot your load all over the artwork! Well, he kinda does if you consider Mona's tits to be works of art, which they are.
Mona is a 64-year-old divorcee, mother and grandmother who was born in Slovakia and lives in the Czech Republic.
Most-fun job she's ever had: "Working at a charity for children."
Panties? "Never at home."
How a man attracts her attention: "By being a gentleman."
Editor's note: Staring at a woman's tits while she's trying to talk to you is probably not gentlemanly. But, in this case, it worked.
Sexual fantasies: "I keep them to myself."
Hey, a woman has to have some secrets, right?
See More of Mona Marley at PORNMEGALOAD.COM!