Victoria Vale: The Total Package
Victoria Vale: The Total Package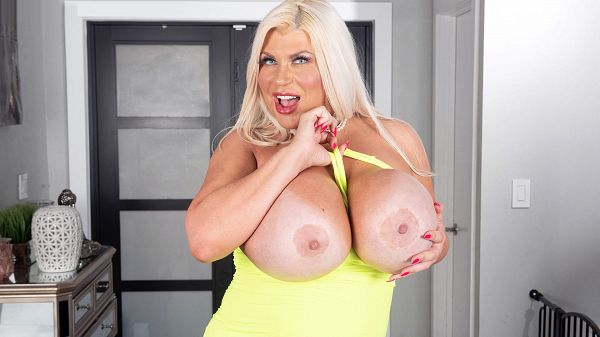 Victoria Vale's poolside bikini scene inspired one SCORELAND member to write, "I have to say this is one of my favorite scenes of all time. Vicky Vale's tits are just perfect."
R. Bailey commented, "Victoria Vale has some of the biggest and the best tits at SCORE today. I'd like to see her and Ricki Raxxx team up in a hypothetical Mega-Boob Olympics 2. Wouldn't that be a sight!"
Victoria flies solo in this scene. She wears a neon yellow tank dress that clings like a second skin to her Amazonian curves. Miss Vale slips if off to show us her tan-lined mega-boobs. She fondles and rubs her massive breasts as she seductively talks about her twin peaks, then she rubs and fingers her pussy and clit. Then she licks and sucks her fingers to taste her sweet cum juices.
"I absolutely love having my breasts played with and fondled during sex," said Victoria. Some readers have emailed that she reminds them of the classic showstopping SCORE Girls of the Big '90s.
"I love my nipples lightly sucked, and I love giving a guy the Russian treatment. I enjoy dressing for sex…high, sexy heels, thigh-highs and garters, skimp dresses or lingerie, bright lipstick."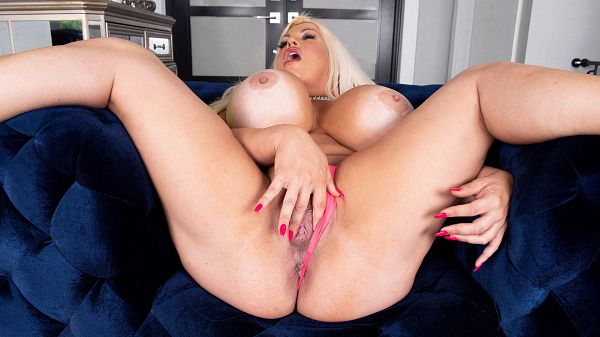 See More of Victoria Vale at PORNMEGALOAD.COM!