The Heavenly Waitress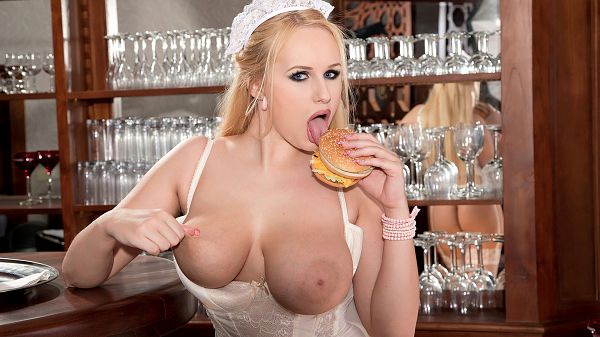 Sexier than any sexy fast food TV commercial, this video of beautiful Angel Wicky shows why it's okay for girls with big-boobs to play with their food. A real-life sensuous foodie, Angel is a shapely waitress with a customer who leaves her stuck with a tray of burgers and fries.
With no one to serve and no one to give her a thick tip, Angel is a lonely waitress in an empty restaurant. So she has to help herself and take matters into her own lovely hands. The moral of the story? Let girls play with their food.
Angel wouldn't normally erotically feast on fries and burgers. She needs to keep her body beautiful and sticks to more wholesome foods. "I run, swim and go to a fitness center. Plus, I get a lot of cardio having sex!" With or without a happy meal, Angel knows how to find her happy seat.
See More of Angel Wicky at PORNMEGALOAD.COM!