Breast Wishes From Natasha Sweet
Breast Wishes From Natasha Sweet
It's Natasha Sweet's mission in life to drive breast-men completely crazy and this scene is another way to accomplish her goal.
When Natasha pulls down her slip, her left breast begins falling out of her bra cups. Natasha puts her hands under her boobs and jiggles them, then jiggles them hands-free. Taking each pliable, huge boob out of her bra cups, Natasha kneads and massages her delicious-looking melons.
Her massive sucklers spill out of her hands. She licks them and puts one on top of the other to create a boob shelf. Her tit-play and oiling are out of this world.
Natasha turns around to show her ass and pulls aside her panties so you can see her cheeks, pussy and butthole. She gets naked and buries her fingers in her pussy while she tries to control her wobbling, swaying tits. Her mouth forms an O, her tongue lolls in her mouth and her eyes roll.
How many real proposals of marriage does this chesty charmer receive on any given day? That's a good question to add to our model questionnaire for her next visit.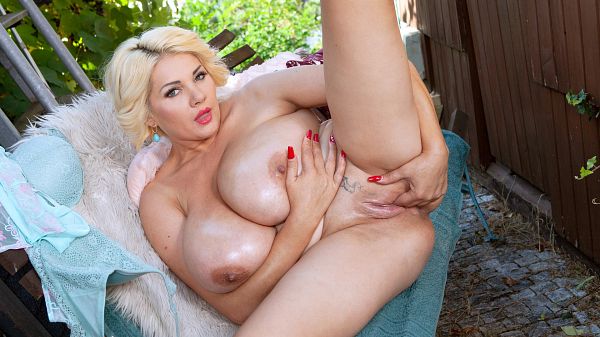 See More of Natasha Sweet at PORNMEGALOAD.COM!