Kitty Cute: A Stiffy For Kitty
Kitty Cute: A Stiffy For Kitty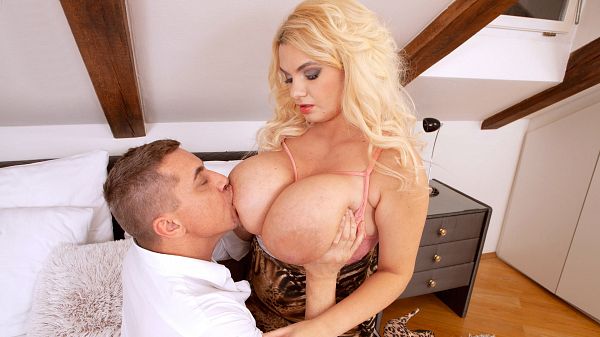 Today is Steve Q.'s lucky day and a momentous day at XLGirls.com because Kitty Cute does her first guy-girl scene. It was a major surprise when Kitty contacted us about shooting hardcore.
When Kitty arrives at her hotel, she's startled because there's a guy in her room in bed and he's jerking off looking at something on his phone. (A video of Kitty and her huge tits? Could be.) He doesn't hear Kitty walk in.
Kitty is shocked seeing him in the room before she makes her presence known. It turns out that the hotel double-booked the same room for both Steve and Kitty and Steve got there first. They have a little tiff about the problem. She wants him to go. Steve convinces Kitty that they should share and share alike, and that includes the room, the bed and themselves.
Needing to see and touch Kitty's giant breasts, Steve makes his move and convinces her to sit on the bed next to him. He puts her hand on his junk and she doesn't pull away. He lowers Kitty's bra and dress to fondle her fantastic boobs, burying his face between them and sucking her nipples.
Kitty touches Steve's dick, and before long, she's pulling and rubbing it and letting him tit-fuck her as she hovers over him. Steve is fascinated by Kitty and explores her body and breasts. He places her on her back to play with her body and then he slips his dick into her pussy and fucks her. Kitty rubs her pussy as she's fucked and keeps rubbing as her tits get a load of cum for the first time on-camera.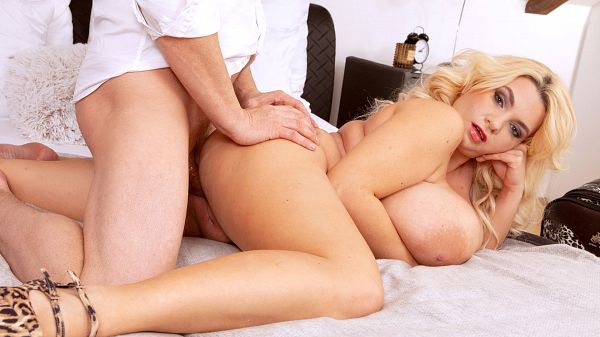 See More of Kitty Cute at PORNMEGALOAD.COM!