Kim Velez & Sofia Damon's Hooter Hideaway Holiday
Kim Velez & Sofia Damon's Hooter Hideaway Holiday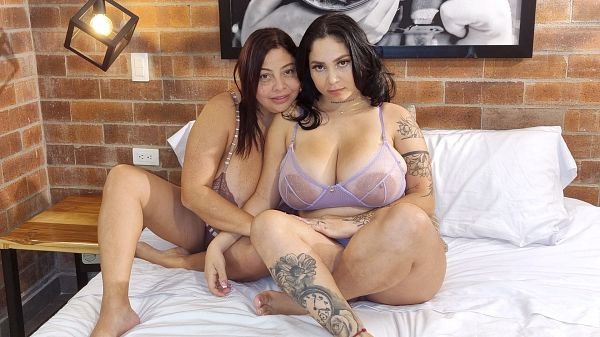 Kim Velez and Sofia Damon have booked a hideaway for the weekend so they can have some girly fun time. As girls with large tits tend to do, they sit on the bed and compare their bras, which have to support heavy loads without the straps snapping and the hooks bending.
Sofia brings Kim over to the side of the bed and sits while Kim stands in front of her. She feels up Kim's breasts and wants to give her a massage. Sofia gets a bottle of oil they brought just for this purpose and unhooks Kim's bra. Sofia can't wait to get her hands on those oiled-up boobs and give her a loving rubdown.
"Your tits are beautiful," a smiling Sofia says with glee, her fingers fondling Kim's breast-flesh. "Let's pamper them a bit. Your boobs are beautiful like this. Look how they shine. Your boobs have grown a bit."
Sofia switches direction. "I want to massage your ass," she tells Kim who turns around so Sofia can oil her ass cheeks. Kim lies on the bed for more breast massaging and then it's time for Kim to massage Sofia's tits and ass with oil.
Kim surprises Sofia with a strap-on cock she's brought for this girls' hooter holiday. Sofia is so excited her boobs shake with anticipation. The two amigas fuck each other's oiled tits and pussies, taking turns wearing the thick dong. Their pleasure party exhausts them.
"Now we are going to sleep well," says Sofia.
See More of Kim Velez at PORNMEGALOAD.COM!